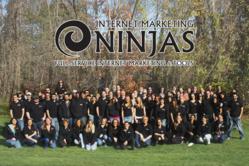 Clifton Park, NY (PRWEB) April 10, 2012
Internet Marketing Ninjas, a full-service Internet marketing company based in Clifton Park, New York, has recently taken "Lucky Number 13" to a whole new level. 40 ninjas, along with their founder and CEO Jim Boykin, took Sin City by storm to commemorate the 13th anniversary of the company.
Of the elaborate celebration Boykin says "13 years is a really big deal for us and it wouldn't have happened without all of the hard work from my team. I'm grateful to have them and I'm hoping to express that gratitude through this trip."
Recently recognized by The Business Review as one of the best places to work in New York's Capital Region, the company has proven yet again its commitment to rewarding hard work. IMN has a culture that values treating its employees as more than numbers while delivering a superior product and maintaining a reputation as one of the best Internet marketing companies in the world.
For all their success, Jim Boykin and his ninjas show no signs of slowing down. "The team is still growing;" Jim states on the Internet Marketing Ninjas blog, "Our services are still growing and blowing away my expectations. I couldn't be more excited about what's coming down the pike and if you're an SEO geek like me, you should be too!"
About Internet Marketing Ninjas
Headquartered in Clifton Park, New York, Internet Marketing Ninjas (IMN) offers a full-line of tools and Internet marketing services proven to increase Internet visibility and overall business profitability.
Since launching his company in 1999, Jim Boykin has earned a number of industry awards, including Search Engine Journal's "Best Link Building Blog" for 2006 and 2007. Boykin also was one of Capital District Business Review's "40 Under 40" for 2009.
Internet Marketing Ninjas currently serves more than 100 clients and employs nearly 100 SEO ninjas. The Internet marketing company is still hiring and is expected to continue to grow steadily over the next several years. IMN is currently among the top five Internet marketing firms in the nation. Internet Marketing Ninjas is excited to continue to redefine SEO and Internet marketing. Learn more about Internet Marketing Ninjas at http://www.internetmarketingninjas.com.