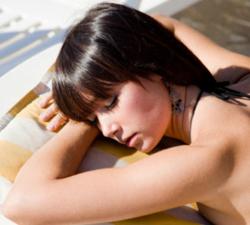 the best anti-aging skin treatment is sunscreen!
Miami, FL (PRWEB) April 07, 2012
TheBeautyPlace.com believes in offering their clients essential beauty products at discounted prices. With summer season beginning in a couple months, sun protection is a major focus for the consultants of the online retailer. Besides skin care to prevent sun damage, the consultants concentrate on hair care products to protect clients hair from exposure to the elements.
The consultants of TheBeautyPlace.com continually recommend to their clients the use of sunscreen year round, but when the warmer weather start coming around their recommendations become a passionate endeavor. Rebecca, the lead consultant, stated, "the best anti-aging skin treatment is sunscreen! Wrinkles, sun spots, leathery skin can be avoided if you were sunscreen." Consultant favorites are Supergoop! SPF 30+ Sunstick .27oz and Supergoop! Everyday UV Body Moisturizing Sun Protection Lotion 15oz. Consultants recommend them for their cost-effectiveness and for their practicality. When using the sunstick, gliding the product across the skin is all that is needed to apply sun protection. The everyday SPF lotion, comes in a container with a pump so that perfect amounts are used for face and body. "Repeated sun damage can lead to other skin conditions like melanoma. Protecting you and your family is smart," Rebecca stated.
A sun free glow is a favorite of the consultants. Their go-to sunless tanning product, Tan Towel, uses a towellete for convenient application. Clients constantly rave the beauty product provides streak-free and odor-free benefits. Olga, a regular client, stated, "Tan Towel is my favorite tanning product. I use it every time I want to have a bronzed look. I have gotten the same results in a tanning booth, but this is a safer alternative." Tan Towel towelettes are infused with a clear self-tanning formula which produces a healthy a natural sunless tan in just a few hours. If a client wants a glow they can choose to apply Tan Towel Classic. If a client is looking for a deeper tan they can choose to apply Tan Towel Plus.
Agadir Argan Oil Spray Treatment 5.1oz is a hair treatment that conditions hair while providing protection from thermal styling and UV exposure. It repairs and adds elasticity to dry, damaged hair. Providing nourishing with Vitamin E, lineolic acid, unsaturated fatty acids and Omega-9. Rebecca stated, "this is a great styling product and protection for hair from the sun. If you braided your hair to go to the beach or park, undo the braids and spritz this on and scrunch your hair with your fingers for a beachy hairstyle. The smell of this treatment is amazing. " It also ideal for use with flat irons, blow dryers and other heat appliances.
Another summer beauty product is TIGI Bed Head Brunette Goddess Shine Spray 4.23oz to help achieve shiny hair. Shiny hair gives off the impression of strength and health. The shine spray's consistency is non-greasy and helps define natural and color-treated highlights. It also conditions hair leaving it soft and smooth. Jennifer said, "any hairstyle looks great with a little shine, and since its non-greasy you can't go overboard."
TheBeautyPlace.com is a leading online retailer of professional beauty products for hair and skin care needs. Find some of the industry's top beauty brands at extremely competitive prices. Hair products offered by TheBeautyPlace.com range from professional flat irons to products for hair loss. Quality skin care products address skin concerns from anti-aging to acne-prone skin.
Follow TheBeautyPlace.com
On Twitter: @TheBeautyPlace
On Facebook: Facebook.com/pages/TheBeautyPlacecom/125435188536?ref=ts
TheBeautyPlace.com Blog: http://www.blog.thebeautyplace.com