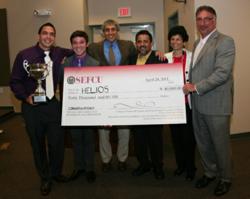 "The New York Business Plan Competition is a great example of the work CEA members like CNSE are doing to actively stimulate promising start-ups, tapping our nation's finest young people who have a passion for cleantech innovation," said James Groelinger
Golden, CO (PRWEB) April 09, 2012
Clean Energy Alliance, Inc. (CEA), the national association of clean energy business incubators, announced today that a record number of 123 student ventures from 25 colleges and universities across New York will compete in the third annual New York State Business Plan Competition on April 26, 2012 at the College of Nanoscale Science and Engineering at the University of Albany, a CEA member. The prizes include over One-Hundred Thousand Dollars ($100,000) in cash and over Thirty-Thousand Dollars ($30,000) in-kind services.
The Competition is an opportunity for promising student-led start-ups to present their business plans to judging panels of 34 potential investors including regional and national venture capitalists, angel investors, investment bankers and other sophisticated private and public investors. Since 2010, over 35 student teams from 13 New York State colleges and universities have presented at this Competition and have been awarded over $150,000 in cash and in-kind services, such as legal and intellectual property services and accounting and tax services.
The Competition was established to encourage student innovation and entrepreneurship. In addition to CNSE, it is hosted by the University at Albany's School of Business, the Lally School of Management & Technology at Rensselaer Polytechnic Institute, and Syracuse University.
"The New York Business Plan Competition is a great example of the work CEA members like CNSE are doing to actively stimulate promising start-ups, including tapping our nation's finest young people who have a passion for cleantech innovation," said James F. Groelinger, Executive Director of CEA. "These are precisely the kinds of initiatives that will strengthen our economy, create jobs and move the country towards energy self-sufficiency while simultaneously addressing pressing environmental, social, and economic challenges. CEA is very proud to have CNSE as a member, and we look forward to seeing the entrepreneurial creativity that will be presented at the Competition. We wish them all the best of luck."
"The record number of student entrepreneurs participating in the third annual New York State Business Plan Competition further demonstrates Governor Andrew Cuomo's pronouncement that New York is open for business," said Pradeep Haldar, CNSE Professor and Head of NanoEconomics. "We are pleased to again have the support of SEFCU as the Title Sponsor of this innovative forum, which showcases the promise and potential of New York's colleges and universities to enable the innovation that is essential to driving economic opportunity and growth."
Eligibility requirements include being a student at an accredited college or university in New York State and having an idea or start-up in one of the following industries: clean energy/sustainability, information technology, nanotechnology/high tech, healthcare, products/services, and social/non-profit. All 123 teams will participate at the competition on April 26 and give 2-minute elevator pitches in the first-round morning sessions. The judges will then select the top 20 teams to give longer pitches in the final-round afternoon sessions.
SEFCU, the Federal Credit Union in New York's Capital Region, Binghamton, Syracuse, and Buffalo, is the Competition's title sponsor. The main university sponsors, in addition to CNSE, are the University at Albany School of Business, Rensselaer Polytechnic Institute, and Syracuse University. Other sponsors are the New York State Energy Research and Development Authority (NYSERDA), Center for Economic Growth, the law firms of Heslin Rothenberg Farley & Mesiti, Nixon Peabody, and Reitler Kailas & Rosenblatt and the accounting/consulting firms of Teal, Becker and Chiaramonte CPA and Marvin and Company. The Clean Energy Alliance is an in-kind sponsor, as is VC Mentor.
The Competition is open to teams and start-ups from all accredited colleges and universities in New York State.
About:
The Clean Energy Alliance (CEA), a non-profit organization founded by National Renewable Energy Laboratories, is the national association of leading business incubators and other entities dedicated to providing technical, business and financial services tailored to the needs of the cleantech business development community. CEA focuses on developing practices and resources that support cleantech business incubation, entrepreneurial mentoring and development, and technology commercialization. http://www.cleanenergyalliance.com.
The College of Nanoscale Science and Engineering, University at Albany, is the first college in the world dedicated to education, research, development and deployment in the emerging disciplines of nanoscience, nanoengineering, nanobioscience, and nanoeconomics. CNSE has more than $14 billion in high-tech investments, more than 2,700 scientists, researchers, engineers, students, and faculty, and state-of-the-art capabilities. In addition, CNSE co-founded and manages operations at the Computer Chip Commercialization Center at SUNYIT in Utica and is a co-founder of the Nanotechnology Innovation and Commercialization Excelerator in Syracuse, NY. http://www.cnse.albany.edu.
Contact: James F. Groelinger, CEA Executive Director
609-516-7669
groelinger(at)cleanenergyalliance(dot)com