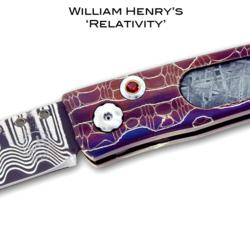 Do wishes come true if you carry in your pocket a piece of a shooting star?
(PRWEB) April 09, 2012
William Henry presented today the 'Relativity', a breathtaking new model of its 'Ventana' collection. This spectacular pocketknife is inlaid with a striking piece of Gibeon meteorite, featuring the unique and extraterrestrial Widmanstätten pattern. This new piece is a beautiful addition to William Henry's collection of functional jewelry, and offers a new level of exclusivity to men looking for a truly unique personality statement.
The 'Relativity' pocketknife also features a beautiful frame in heat-blued damascus steel, punctuated by a ruby on the button lock. The blade in 'wave' pattern hand-forged damascus steel, with a core in ZDP-189, is also one of the hallmarks of William Henry's pocketknives.
"I think of luxury as exotic, rare, precious, and timeless. The status is conferred by the quality of the product and what it says about the owner," says Matt Conable, founder and creative engine of William Henry. "A child once asked me if wishes come true if you carry in your pocket a piece of a shooting star. It's a really good question, and I don't know the answer, but now that we feature it in our pocketknives, I will carry it whenever I can."
For the 'Relativity', William Henry used fragments of the Gibeon meteorite which crashed in Namibia (Africa) in prehistoric times. The meteoroid exploded in mid-air due to thermal shock, and its fragments were dispersed over a vast elliptical area.
First discovered by the Nama people who used them to make tools and weapons, Gibeon meteorites are composed of an iron-nickel alloy containing significant amounts of cobalt and phosphorus. Due to the extremely long cooling time in the interior of the parent asteroids, these alloys have crystallized into intermixed millimeter-sized bands.
The polishing and acid etching work performed on sections of the meteorite in William Henry's Oregon studio, revealed these stunning patterns of intersecting lines of lamellar kamacite (see photo).
William Henry designs and creates every piece exclusively in small, limited, often unique editions. The 'Relativity' pocketknife is no exception: created in an exclusive offering of 25 pieces, the distinctive character of the artistry and the personality of the materials make every one of them truly unique. No two pieces are exactly alike.
The 'Relativity' is priced at $1,500 and is available on William Henry's website, and through a select group of authorized independent retailers in the US and abroad. If exclusivity is about feeling truly unique, William Henry now offers men the possibility of owning and carrying a piece of a shooting star, a timeless fragment of a distant and alien world.
And quite a story to pass down to a new generation of earthlings.
About William Henry
William Henry is an American luxury brand devoted to the vision of designing and creating superlative functional jewelry. Designer and entrepreneur Matt Conable founded the company in 1997 and is now the sole owner. Conable first established the brand creating exclusive and award-winning pocketknives, effectively transforming the archetype of all tools into a superb piece of functional jewelry for men. Today's collections include writing instruments, money clips, and golf tools.
The seamless integration of classic natural materials, precious metals & gemstones, and state-of-the-art alloys is a hallmark of William Henry's work. The brand creates limited editions only, and no two pieces are ever replicas. William Henry's collections are available on its website and through a select network of authorized retailers in the US and abroad.