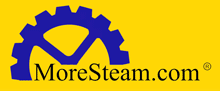 We view our BBB membership as a way to visibly display our commitment to quality and customer success.
Lewis Center, OH (PRWEB) April 09, 2012
MoreSteam.com, the leading global provider of online Lean Six Sigma training and Blended Learning support technologies, announced its recent accreditation by the Better Business Bureau (BBB).
"The nature of our business – helping our customers focus on their customers to develop and deliver near-perfect products and services – directly aligns with the BBB objectives," stated Bill Hathaway, MoreSteam.com's President. "Lean Six Sigma ultimately depends upon satisfying a customer, and that's what the BBB is about. We view our BBB membership as a way to visibly display our commitment to quality and customer success."
To be accredited by BBB, a business or organization must affirm that it meets and will abide by BBB standards, which are defined by the BBB Code of Business Practices. The Code represents sound advertising, selling and customer service practices that enhance customer trust and confidence in business. The Code is built on the BBB Standards for Trust, eight principles that summarize important elements of creating and maintaining trust in business.
Since its inception in 2000, MoreSteam has been dedicated to process improvement activities that produce significant direct and indirect social and environmental benefits. Process improvement drives customer satisfaction and unites teams in the name of improved efficiency.
MoreSteam's online training has been internationally recognized for its emphasis on interactive online practice, its unique software and foreign language course options, and the convenience and comparatively low cost of its comprehensive curriculum. Using voice-of-the-customer feedback, MoreSteam continues to expand its suite of online training simulations and software options.
MoreSteam further uses its subject expertise and client network to give back to the business community. Each month, MoreSteam offers a free live Webcast in its continuing-education series for Master Black Belts, Black Belts, and all interested Lean Six Sigma practitioners. The company has also helped to grow and support local communities of practice focused on customer-driven quality. These communities in the United states and Canada are places where Lean Six Sigma and process improvement practitioners can meet, network, and learn.
About MoreSteam.com
MoreSteam.com is the leading global provider of online Lean Six Sigma training and Blended Learning technology, serving over 2,000 corporate clients and over 50% of the Fortune 500 with a full suite of Lean Six Sigma e-Learning courses, data analysis software, online project tracking software, and online testing, and process simulations and games. MoreSteam.com was launched in the year 2000 in response to the high cost of traditional Six Sigma training and tools, and has now trained over 340,000 Lean Six Sigma professionals. MoreSteam's mission is to enable people to advance the performance of their organizations by delivering powerful tools for process improvement to the widest possible audience at the lowest price available. To learn more about MoreSteam.com: http://www.moresteam.com
About BBB
The first BBB was founded in 1912. Today, 116 BBBs serve communities across the U.S. and Canada, evaluating and monitoring more than 3 million local and national businesses and charities. BBBs review accredited and non-accredited businesses alike. BBB accredited businesses must meet certain standards to qualify for accredited business status and to remain an accredited business. Businesses are evaluated based on the BBB Standards for Trust, a comprehensive set of best practices for how businesses should treat the public in a fair and honest manner. To learn more about the BBB: http://www.bbb.org/us/