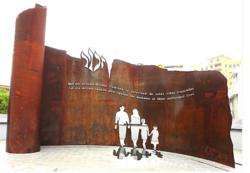 The monument you are inaugurating makes a very significant contribution," wrote Israeli President Shimon Peres, "by remembering the victims of this terrible period and honoring their memory.
New York, NY (PRWEB) April 09, 2012
A solemn and moving dedication of the Holocaust Memorial in San Juan, Puerto Rico, March 29, designed by husband/wife team Michael Berkowicz and Bonnie Srolovitz, New York-based artists, brought together representatives from many walks of life, both public and private, Jewish and Gentile, to commemorate and remember what must never be forgotten – the Holocaust.
Upon their return to New York, the designers said the response they received to their Holocaust Memorial sculpture titled "In the Shadow of Their Absence" was both humbling and a reassurance that art with a purpose matters. "We found that the people of Puerto Rico embraced the vision we created for them to educate a new generation of an atrocity we must never forget," Berkowicz said.
Srolovitz added that "in this new Holocaust Memorial we want to share symbolism that visitors, whether Jewish or not, can relate to. The key message of the sculpture is not only to acknowledge the loss of the victims themselves, but also the impact of their loss extrapolated (the generations who would have come from those lost) on society of the future. The message of the Path of the Righteous is to share, through personal stories, that one person CAN make a difference."
During his remarks at the dedication, Berkowicz said that "this is indeed a very special moment for all, but for us as artists, this moment is most awesome. We are standing here, not simply because we were commissioned to do a public sculpture – that would have been enough to be proud – but we are here because you entrusted us with a most sacred project, the creation of a Holocaust memorial.
"A Holocaust memorial," he added, "more than any public monument, is art with a responsibility, is art with a mission, a statement, art with a lesson. This Memorial is about a dark and tragic moment in the history of mankind; it is about life and death, about pain and suffering, it is about loss. But most of all, it is about remembering, about memory. The shapes of the flame at the top of the sculpture contain the Hebrew word "Zachor," meaning remember, never forget.
"The Jewish tradition recognizes two kinds of death – the death of a physical body, for which we have no control, and the death of a spirit, the memory. Death is only triumphant when we allow the memory to fade; this monument urges us to never forget."
A key speaker at the dedication, Puerto Rico Senate President Thomas Rivera Schatz, said, "Today we begin a new chapter of remembering forever to never forget this black page in the history of mankind and that we have to remind future generations that man's past atrocities should never be repeated.
"Michael and Bonnie, thanks for creating this great historical work that motivates us to continue working with strength and commitment to the rights of future generations. I loved the design and share it with all Puerto Ricans and tourists who visit us."
Another keynote speaker, Puerto Rico Governor Luis Fortuño, added that "Puerto Rico has the honor of having one of the largest and most important Jewish communities in the Caribbean.
"With the inauguration of this monument, we not only recognize these victims, we also make clear our total rejection of all forms of personal and collective violence, which destroys the deepest fibers of our society," the governor said.
Two letters from Israel were read, the first from Israeli Prime Minister Benjamin Netanyahu, which thanked "the Government of Puerto Rico and the local Jewish community for initiating this project and building this impressive monument. In doing so, you join those who proclaim, loud and clear 'Never Again' – never again to genocide of the Jewish people or of any other people."
The second letter, from Israeli President Shimon Peres, said, in part, "The monument you are inaugurating makes a very significant contribution by remembering the victims of this terrible period and honoring their memory."
The new Plaza also serves to memorialize more than the Holocaust's victims; it includes the "Path of the Righteous," which acknowledges the role that those Righteous Gentiles played during World War II, risking their lives to save Jews from the Nazi atrocities.
Two Holocaust survivors cut the ribbon, officially inaugurating the San Juan Holocaust Memorial. Additionally, and of special relevance to Puerto Rico, is the section of the Plaza dedicated to victims of what is known as the Lod Airport (now Ben Gurion Airport) Massacre on May 30, 1972, when 16 Puerto Rican tourists traveling to the Holy Land were among those killed by the Japanese terrorist group the Red Army.
About Michael Berkowicz and Bonnie Srolovitz
Michael and Bonnie have been collaborators and partners and in business as designers and artists creating sacred objects and spaces for more than 20 years. They have won numerous awards and their work is in the permanent collection of the Jewish Museum in New York. For more information about their work, please visit either Berkowicz Design or Presentations Gallery Ltd.