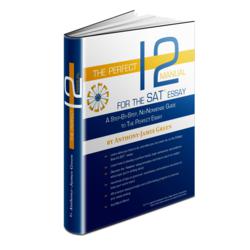 To get a perfect SAT Essay score, you need to be flawless, but not good - understanding the difference between the two is the key to this whole process.
New York, NY (PRWEB) April 07, 2012
The essay portion of the SAT, a relatively new addition to the long-feared exam, has mystified students since its introduction. The essay, which students need to write in 25 minutes on two pieces of lined paper, seems like a rather strange start to a test which is otherwise the perfect model of multiple-choice objectivity. Many students wonder: how does a handwritten opinion piece fit into the overall structure of a test that used to be scored entirely by machine?
"Students are confused by the SAT essay because they think that it's scored subjectively," says Anthony-James Green, author of The Perfect 12 Manual to the SAT Essay and long-time SAT tutor. "The essay becomes much less confusing once you realize that it's NOT scored subjectively - your grade is actually given to you based on purely objective grounds. Once you realize this, it's relatively easy to game the essay and get a perfect, or at least near perfect, score."
The SAT essay cannot be graded subjectively. If the College Board, the originators of the test, were to hand out opinion-based grades on student essays, a firestorm would ensue. If, for instance, a student wrote an essay bashing Republican policies, and his essay was read by a Republican grader, the ensuing complications would be obvious. To avoid these complications, the College Board has created an elimination-based grading system that punishes students for making objective errors in their structure, wording, and overall argument.
"Students all start with a perfect score. For each mistake they make, they lose points. The mistakes you're punished for are things like "lack of a clear thesis," "lack of supporting evidence," and "abundant grammatical and spelling errors." These are all objective errors, and that's the beautiful part - if a student can write an essay free of these errors, she'll get a perfect score by default."
Green's book, The Perfect 12 Manual, advises students to stop trying to "gain points," since it's impossible to do so. Instead, the book advises students to write "plain vanilla" essays that, while lacking any interesting content or wording, avoid the errors that the essay's graders are looking for. "Students can't gain points for saying smart things, expressing profound ideas, or using poetic language," says Green. "They can't gain points for anything. Instead, their whole focus should be on writing robot-esque prose that follows a precise structure. If a student treats the SAT Essay as a fill-in-the-blanks exercise, where each blank is an essential element of his argument, and he doesn't add anything outside of those blanks, he can't possibly lose points."
Green, who has been called New York's best SAT Tutor, swears by the strategies within The Perfect 12 Manual. "Shakespeare could write an SAT essay and get an absolutely terrible score. This essay has absolutely nothing to do with writing ability or with intelligence - it's all about sticking with the format that the test expects and never veering from it for any reason whatsoever."
The Perfect 12 Manual constantly emphasizes the difference between "good" and "flawless." The book argues that a good SAT essay score requires "lack of flaws," which has nothing to do with actual quality. It advises students to write along these lines:
"Dogs are friendlier than cats. Dogs are also softer and cuter than cats. Cats shed more than dogs and ruin furniture. Dogs are better pets than cats."
The above passage epitomizes the concept of "flawless rather than good" - it's not exciting, interesting, or original, yet at the same time, it expresses a clear thesis with clear supporting logic in a linear way.
"If students follow the advice in my book, they'll get perfect or near-perfect scores. Their essays will be so boring that they'll be ashamed to submit them, but that doesn't matter. These essays get read by apathetic grad students in a minute and then thrown away anyhow - so who cares if they make a great beach read?"
Students interested in learning more can download free chapters of the book, and purchase the whole thing, through Green's site, Test Prep Authority, a free SAT and ACT resource center for high school students. Any student worried about his or her writing ability and SAT essay score should take comfort in the fact that, at least according to Green, the two are so widely disconnected.
###