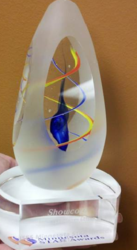 I believe that the interactivity and informal setting truly represents the future in corporate communication and outreach.
St. Paul, MN (PRWEB) April 12, 2012
Showcore Inc., a leading event design and production company, announced today that it was awarded, along with its other teaming members, the Team Effort Award for 2011. The ISES Star Awards represents an opportunity for event designers and production companies to gain recognition for the fabulous events they create, plan, manage, and execute each year. The project for a medical manufacturer brought together a group of best-in-class service providers that provided a new concept in the way corporate events engage their audiences.
The Award went to the following team members and service providers, Creative Events by Kranz, Perimeters Group, CORT Event Furnishings, The Wedding Guys, Propel Transportation, BeEvents, Interactive Meeting Technology, and Jigsaw Unlimited. Each teaming member integrated their expertise into the event planning and execution to make this event a great success.
"We are proud that we were a part of this amazing team effort and are happy that we garnered the award for a great event." stated Steve De Vries, President of Showcore. "It is a given that most companies must change the way they communicate with their employees and I believe that the interactivity and informal setting truly represents the future in corporate communication and outreach. We look forward to working with customers on presenting new event design concepts into the future." added De Vries.
Showcore provided technical services around the audio and video portions of the event which also included a theatre setting that opened into 6 interactive cafes. The event was designed to engage 5,000 attendees by creating engagement points so attendees could connect with the company, employees and event content. The open platform was designed to allow people to learn the many facets of the company they work for and allowed people to choose and make their own experience.
For more information on our event design services, please visit Showcore's website at http://www.Showcore.com or call toll-free at 1-888-786-8228.
About Showcore
Showcore, Inc. is the leading event design & production services company that turns events into catalysts that drive excitement, innovation, and change. For over 20 years, Showcore has been providing specialized in-house personnel while leveraging one of the largest staging and AV inventories in the nation, by providing turnkey event planning, event design, show logistics and unsurpassed execution for corporate, association and entertainment events anywhere in the U.S. and throughout the world.
###