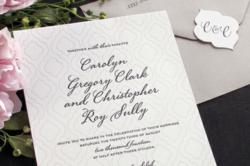 WEST KENNEBUNK, MAINE (PRWEB) April 11, 2012
William Arthur, Inc. is pleased to announce the launch of Weddings Volume II; their newest collection of premium, personalized wedding invitations. The Maine-based company is world-renowned for exceptional printing and stationery design, with a wide variety of styles, wedding invitation formats and price points to satisfy the tastes and expectations of today's brides.
Weddings Volume II showcases a variety of invitation styles from casual natural elements, to classic designs with a modern twist. The assortment of invitations is expanded with new paper colors in Blush, Kraft, Black and Vivid Green. Richly textured letterpress designs, painted edges and foil imprinting are among some of their stunning, chic designs.
This companion to William Arthur's Weddings Volume I album also features classic, heavyweight papers and elegant beautifully embossed border designs.
The collection can be ordered online and at select stationery retailers across the country. To find an authorized William Arthur retailer, visit the "Find a Dealer" link at http://www.williamarthur.com.
About William Arthur
For over 60 years, William Arthur has been renowned for creating fine luxury stationery. The company's products are designed and produced in West Kennebunk, Maine, where the beauty of coastal living is enjoyed with easy access to urban centers from Portland to New York. Deeply knowledgeable about high-end printing and the many nuances of fine writing papers, William Arthur's staff artists and craftspeople are passionate about quality, as well as both old-world and state-of-the-art printing methods. At William Arthur, employees are dedicated to making the company a wonderful place to work, and to ensuring that each and every customer is delighted by their exquisite products and extraordinary customer service. Visit them online at http://www.williamarthur.com