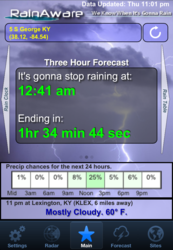 Fairfax, VA (PRWEB) April 08, 2012
NewsWatch recently aired a story about a cutting-edge forecast system that can accurately predict within minutes when precipitation will reach the user's exact location, up to 3 hours in advance. It's called RainAware, and it is an application that is currently available for the iPhone and iPad. RainAware uses the phone's GPS location, local radar and exclusive algorithms to deliver a reliable and precise weather forecast to the user in an easy-to-read format. Simple enough for young and old, users don't have to be a meteorologist to know when it's going to rain.
The app's creators, who have nearly 40 years of combined experience in meteorology and computer programming, sought out to improve upon what they saw as an outdated system of inaccurate and confusing weather forecasts virtually everywhere consumers look. Conventional forecasts from TV and newspapers, weather sites and other mobile apps can only give generalized predictions about when precipitation will arrive in an area. As a result, many times the forecast ends up being wrong. "Weather can change rapidly over a very short distance. It might rain on half the people in the area, but that leaves the other half with a bad forecast," the app's creators said.
RainAware upgrades the traditional, general-area forecast to a much more specific one tailored to the individual, providing precipitation start and end times to within minutes and removing a large amount of uncertainly in the short-term.
In an easy-to-read format, the app also will indicate the intensity of the upcoming precipitation, so users will know in advance if there's a light shower headed their way or a torrential downpour. The main screen is a simple clock format that can be switched to a 3-hour graph or unique 1-hour rain clock. The radar maps display up-to-date local radar images with the current location highlighted and the smart backgrounds change based on storm threat and time of day.
NewsWatch is a weekly 30-minute consumer oriented television show that airs nationwide. NewsWatch regularly feature top celebrities, health tips, technology products, medical breakthroughs and entertainment news on the show. The show airs in 180 markets nationwide as well as all of the top 20 broadcast markets in the country, and is the preferred choice for Satellite Media Tour and Video News Release Distribution. For more information, head to newswatchtv.com