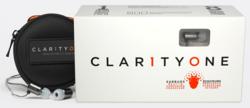 Fairfax, VA (PRWEB) April 09, 2012
Scott Steinberg recently spoke with NewsWatch about some of the best earphones coming out in 2012. One that really caught his eye were the earphones from ClarityOne. ClarityOne has developed a new technology they call the PureSound Processor that actually eliminates 100% of distortion as opposed to simply masking it. The PureSound Processor provides the most direct route possible for sound, extinguishing all distortion between input and output.
"Ear buds" are the first product offering by ClarityOne Audio using this distortion eliminating technology. The EB120 EarBuds come with a volume control, music player and phone control that allows the listener to play, pause, skip and rewind music, or answer and end phone calls with just a tap. It works with any phone, ipod, ipad, anything that plays sound and it retails for $149. The EB110 Earbuds come with the same features except the volume control and it retails for $129. Both models come in three different colors and noise cancelling tips in various sizes to fit any ear.
Clarityone has also developed the over-the-ear headphone with the same distortion-free music experience as their earbuds. They're made with light-weight, noise-canceling high density foam for a comfortable fit and come in three colors. The ear cans will hit the marketplace by early summer with the unmistakable pure sound technology that ClarityOne is known for. For more information about the earbuds, head to ClarityOneAudio.com
Bestselling author and consumer products expert Scott Steinberg is the creator of the The Modern Parent's Guide and Business Expert's Guidebook series. Hailed as a top voice for today's high-tech generation by dozens of publications from USA Today to Forbes and NPR, he's covered the field for 400+ outlets from The New York Times to Entertainment Weekly and Wired. A frequent on-air expert and analyst for all major TV networks including ABC, CBS, FOX, NBC and CNN, Scott's also a syndicated business columnist for Inc. magazine. More than one billion people have turned to his columns and reports for insight into all things high-tech. He is the CEO of TechSavvy Global, a world-renowned provider of strategic consulting for the consumer electronics, online and video game industries.
NewsWatch is a weekly 30-minute consumer oriented television show that airs nationwide. NewsWatch regularly feature top celebrities, health tips, technology products, medical breakthroughs and entertainment news on the show. The show airs in 190 markets nationwide as well as all of the top 20 broadcast markets in the country, and is the preferred choice for Satellite Media Tour and Video News Release Distribution. For more information, head to newswatchtv.com