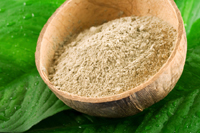 Zion Health's Claydry natural deodorant uses aluminum-free natural clay to neutralize body odor and is not an antiperspirant.
Los Angeles, CA (PRWEB) April 09, 2012
Zion Health announces a new line of aluminum free natural deodorants; Adama ClayDry is now available at Whole Foods Market in Los Angeles, Arizona and Nevada. Claydry naturally absorbs wetness and uses a unique formula of Kanwa clay minerals, alpine oil and essential oils to offer odor protection.
ClayDry deodorant contains the active ingredients alpine lichen extract and Kanwa clay. Commonly used by native tribes, alpine lichen acts as a natural antiseptic, anti-inflammatory agent and helps soothe delicate skin. Smectite Kanwa clay (calcium montmorillonite) is a high-quality, edible-grade clay with adsorptive and natural antibacterial properties. According to MIT mineralogist Robert T. Marin, smectite clays have the ability to pick up pollutants far greater than their own weight.
Kanwa clay swells when it comes in contact with moisture and draws out toxins from cells. Widely used by Native Americans to detoxify poisons, Kanwa is also known to balance skin pH and does not block pores. Kanwa clay's adsorption of odor-producing bacteria and alpine lichen's natural skin calming action suggest that natural deodorants such as Adama Claydry offer an alternative to chemical-based formulas.
Antiperspirants and deodorants are common defenses against underarm wetness and body odor. Zion Health's Claydry natural deodorant uses aluminum-free natural clay to neutralize body odor and is not an antiperspirant. Aluminum-based antiperspirant/deodorant formulas, however, have been called into question because of potentially harmful ingredients. Research suggests that aluminum compounds are absorbed by the skin and can cause estrogen-like hormonal effects. A study in the Journal of Inorganic Biochemistry showed that aluminum-based compounds interfered with hormonal estrogen, a known influence in breast cancer, and breast cell receptors. This raises concerns about the possible impact of aluminum-based antiperspirants and deodorants on breast tissue.
Zion Health produces a broad range of natural skin care products and home remedies specializing in clay healing. Claydry Natural Deodorant and additional Zion products are now available at Whole Food Market stores in Los Angeles, Arizona and Nevada as well as select local health food stores in the United States and Canada. Products may also be purchased online at http://www.kanwaminerals.com.
Zion Health provides consumers with pure skin and body care products that are 100% vegan, free of parabens, aluminum and sulfates and are formulated using certified organic ingredients whenever possible. For more information on Zion Health products, go to: http://www.zionhealth.net.