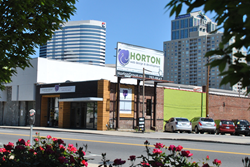 "I love the energy downtown, and am very glad to be headquartered here once again.
Nashville, TN (PRWEB) April 06, 2012
Growth and change is coming for Horton Group, a Nashville-based advertising agency specializing in online marketing, web development and design. The Nashville agency has moved into new offices in downtown Nashville, a property the company purchased at 136 Rosa L. Parks Blvd.
Horton Group has been actively renovating their new space, located downtown just off the intersection of 8th and Broadway.
The diversified Horton team is led by Ned Horton, a successful media and marketing entrepreneur. Horton moved WRLT radio (FM-100) from Brentwood to 2nd Avenue in Nashville in early 1991, a noted turning point for the downtown landscape. "I love the energy downtown, and am very glad to be headquartered here once again," Ned Horton said, "The building is full of interesting potential. We feel like we are in a great a location with many possibilities."
Launched in 1996, Horton Group offers a full range of marketing services that help strengthen brand awareness, including media strategy and media buying, graphic design, web development, search engine optimization and social media marketing. Horton Group has earned a solid reputation in Nashville with sixteen years of service to area clients. The company is easily recognizable by its striking purple elephant logo.
Horton Group was based in mid-town Nashville for the past five years, on Charlotte Avenue near Centennial Hospital. Their new business home is a vintage building that sits behind the iconic Hume Fogg high school right off of Broadway. Renovations include the installation of a hardwood floor, historic oak that was once siding on a tobacco barn built before the Civil War. The old nail holes and original saw cuts give the floor the unique look the Horton design crew was looking for.
Horton's web development team has designed and built websites for a wide range of clients, from start-ups to statewide associations. Industries served include legal services, health care, IT, hospitality and the music industry.
Horton Group, founded over 16 years ago as a web development and design company, has since grown into a full service advertising agency. The web development team has expanded to encompass the growing mobile market as well as handling clients' needs for custom intranet and work-flow software as well as application development. With a long history in broadcast, publishing and Internet technology, Horton has a broad range of experience to draw from.
Horton Group is recognized as an early adopter of the Drupal web development software. Drupal is an open source application framework for building websites with a content management system. Horton Group also provides branding and other graphic design services. The locally owned and operated business is looking to engage with new business opportunities and community connections as they continue to grow. Moving downtown is just another step in the evolution of Horton Group.
For more information, contact Horton Group either by phone at 615-292-8642 or by email at info(at)Hortongroup(dot)com.