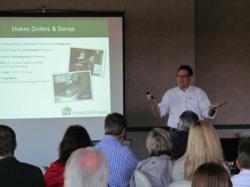 It's really important to work with someone who knows what they are doing." Daryl Whiteside, President, Hybrid Homes
Sacramento, CA (PRWEB) April 06, 2012
Comstock Mortgage led an innovative educational seminar for Real Estate Agents April 4, 2012 at Arden Hills Wellness Resort & Spa. The seminar generated a full house and was well attended by many of the area's top real estate and home loan professionals.
The topic, renovation ready loans, also known as 203k, was designed to help arm real estate agents with a more thorough understanding about the process of obtaining these loans to help their clients purchase the home they want and remodel it into their dream home.
Despite general knowledge about the 203k program itself, many questions emerged regarding how these loans are completed and the actual process of closing a 203k loan. Comstock Mortgage was able to answer these questions and many more during the hour and ½ long seminar, which included detailed information and a checklist of 14 simple steps from Daryl Whiteside, President of Hybrid Homes. Hybrid Homes is a full service 203k certified general contractor specializing in the renovation of REO, Short Sale, and Distressed properties. For more information about Hybrid Homes, please visit their website at: http://www.hybridhomes.biz
Comstock Mortgage is one of the few area lenders that have the ability to close these loans in-house. "Comstock Mortgage has the entire gamut of renovation loans available. It's really important to work with someone who knows what they are doing," said Whiteside.
Comstock Mortgage has an entire division dedicated to meet client's 203k loan needs. They can respond more quickly and close these loans more efficiently than the larger banks. For more information regarding this division, contact Kent Smith, Renovation Lending Manager at Comstock Mortgage. "The event was superb! The participation and energy from the crowd was impressive. Comstock Mortgage is excited to support both the Realtors and borrowers with this fantastic lending solution", said Smith.
If you missed this seminar, another will be held in Placer County in the coming months, to be announced via Facebook and by invitation. Like and watch Comstock Mortgage's Facebook page for relevant and current industry related news and other upcoming related events.
Comstock Mortgage is a California Department of Real Estate (DRE) and California DOC licensed lender with more than 20 years experience in all areas of home loan financing. Comstock Mortgage has an experienced team of top originators available. For more information about Comstock Mortgage, visit http://www.comstockmortgage.com
California DRE #01390474 DOC #6073484 NMLS #165193