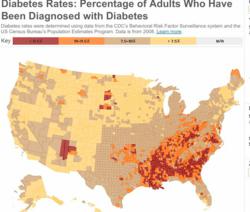 This comprehensive approach to visualizing diabetes rates will allow individuals & institutions to better understand regional risk factors and identify potential solutions.
San Francisco, CA (PRWEB) April 16, 2012
Healthline.com, a leading source of online health and wellness information, today published a new visual interactive tool that analyzes county-level diabetes incidence and the overlap with average household income levels, poverty rates, and "food deserts" – areas where healthy, affordable food is unavailable. Using data from the US Census and the CDC's Behavioral Risk Factor Surveillance System, Healthline has created the first multi-tiered tool to examine adult diabetes on a national scale in conjunction with relevant socio-economic factors. This comprehensive approach to visualizing and understanding diabetes rates will allow researchers, payers, healthcare providers, advocacy organizations and public health agencies to better understand regional risk factors and identify potential solutions.
Color-coded and user-friendly, the interactive map allows viewers to select an individual state or county for detailed information or watch the entire map change as they filter out counties by diabetes, food desert, income, or poverty criteria. Healthline has translated the CDC's disease-rate maps to provide users a better understanding of the correlation of disease to a combination of health and economic data. The map is easily scalable and customizable to allow users to set specific percentage or dollar ranges for their desired combination of factors on the map.
The American Diabetic Association believes the number of diabetic adults in the U.S. is more than 25 million and growing swiftly. Healthline is committed to developing educational and novel online health tools and today's release of this interactive map helps users easily comprehend and compare areas with the highest and lowest rates of diagnosed diabetes, food deserts, incomes, and poverty rates.
About Healthline Networks
Healthline Networks is the fastest growing provider of intelligent health information services, enabling 100 million consumers a month to make more confident, informed healthcare decisions. The company's proprietary consumer healthcare taxonomy, the largest of its kind, powers a suite of intelligent health search, content and advertising services. Combining advanced search technology with deep medical expertise, Healthline partners with a network more than 50 trusted destination sites that include publishers, portals, search engines, employers and health plans. Headquartered in San Francisco and named to Deloitte's Technology Fast 500 in 2010 and 2011, Healthline is backed by Aetna, Comcast Ventures, GE, Investor Growth Capital, Kaiser Permanente, Reed Elsevier, U.S. News & World Report, and VantagePoint Capital Partners. For more information, visit http://www.healthlinenetworks.net