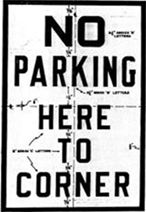 Brooklyn, NY (PRWEB) April 09, 2012
In February of 2012, MyParkingSign.com launched a new History of Parking Signs in America Timeline to educate and entertain customers. Viewers can see how parking signs transformed through time into the modern versions seen today. The fun and informative graphic is a treat for shoppers and history lovers alike.
This image is a great way for people to appreciate how these signs have evolved. The first Free Parking sign from 1910 looks like a tower clock, round with an arrow similar to an hour hand. In the 1920s, the shape of the parking signs began to vary, with some as circular models with a stand. Prohibition-era signs in the 1930s were a more standard square look, while the 1940s signs showcased a variety of colors. The article details how new technological advances meant there was more room for creativity. Lyle Signs, Inc, a leading sign manufacturer, bought its first embossing press in 1933, and the pressing process used to emboss metal signs has remained consistent.
One fascinating part of the article is the discussion about race. Segregation and the civil rights movements were giant issues in the middle of the twentieth century. However, the parking sign industry was essentially immune to the rampant racism in America at the time, with the signs free of discriminatory messages. New parking signs were also introduced at this time period. Durable materials such as aluminum became parking sign staples and designs were streamlined to send clear messages, consistent across different states. Throughout the 1960s and 1970s, parking signs became more specialized, such as one sign designed specifically for the 1969 Presidential Inaugural Parade for Richard Nixon.
The timeline reflects how parking signs must stay consistent and user-friendly despite a constantly changing society. Color schemes are important, such as red for prohibition, green for permission, and blue for informational. The fonts are printed clearly on the signs, increasing their legibility. MyParkingSign specializes in providing customizable templates and bilingual options in line with globalization.
The timeline was launched to show that parking signs are more than simply static products. It is an excellent way to show the care that has gone into the composition of these signs over decades to make them the universal symbols known today. For more information, visit http://www.myparkingsign.com/mps/history-of-parking-signs-in-america.aspx.
About MyParkingSign
MyParkingSign is the largest online distributor of parking and traffic signs. Find over 3,000 different parking signs in stock as well as labels and accessories. Customers can create their own signs using convenient customization wizards.
About SmartSign
SmartSign is one of America's fastest growing e-commerce companies and parent of http://www.MySafetySign.com, http://www.MyParkingSign.com, as well as over 50 other sites.
Traditionally, signs with the right message have been hard-to-find, hard-to-design and hard-to-order. By positioning "Signs as Solutions", SmartSign has taken an entirely different approach. Through highly targeted, yet content-rich and authoritative sites, the company provides specific solutions to specific problems – such as keeping your Parking Lot safe and manageable. "We take the agony out of finding and ordering your perfect sign" – Blair Brewster, SmartSign founder. Couple this with fast and free shipping, 3M warrantied signs that outlast fast-fading ink jet signs from competitors, the web's largest range of designs and a best price guarantee, it is easy to see why SmartSign has grown so quickly.