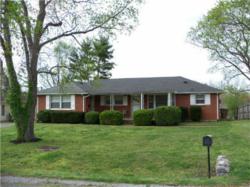 Interested parties may contact Wendy Stevens at (615) 498-0444 to learn more about this beautiful Nashville Duplex For Sale.
Nashville, TN (PRWEB) April 06, 2012
Wendy Stevens, a CEO local to Nashville, announced today that her Nashville duplex is for sale at Burchwood Gardens in Davidson County.
1915 Upland Dr. in Burchwood Gardens is a beautiful asphalt-roofed, brick one story duplex that features two units, each with one full bathroom and two bedrooms per unit. Unit features include appliances such as range, refrigerator and washer, as well as electric cooling and heating. Interior features include carpet, tile, ceiling fans and smoke alarms.
The duplex graces a lush green lot measuring approximately 83' X 153'. Both units are currently occupied by renters, one paying $650.00 per month and the other paying $695 per month. Each unit has an Individual Electric Meter and each unit pays its own electricity and water bills.
Burchwood Gardens is located near Inglewood Elementary, Dalewood Middle School and Stratford Comp High School.
Other nearby schools include:
Rosebank Elementary School
Dan Mills Elementary School
Pennington Elementary School
Hattie Cotton Elementary School
Bailey Middle School
Baxter Alternative Learning Center
Isaac Litton Middle School
Two Rivers Middle School
Jere Baxter Middle School
Mcgavock Comp High School
Maplewood Comp High School
Hume - Fogg Magnet High School
Nashville School Of The Arts
Holy Rosary Academy
St Joseph School
Donelson Christian Academy
Tennessee School For The Blind
Goodpasture Christian School
Interested parties may call (615) 498-0444 to learn more about this Nashville Duplex For Sale by local CEO Wendy Stevens.