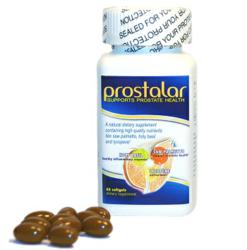 Wading River, New York (PRWEB) April 13, 2012
After years of diligent research, Medveal releases Prostalar®, the latest all natural herbal supplement formula for men's prostate health. Prostalar® is designed to address the negative factors modern civilization imposes on the male reproductive system by protecting the prostate from harmful factors with its well balanced remedy scientifically proven to be effective.
The prostate is a part of the male reproductive system that secretes a slightly alkaline fluid that constitutes 20-30% of the volume of semen, and contains an antibacterial factor able to kill most pathogens causing urinary tract infection. In some cases, these infections will lead to prostatitis which is an inflammation of the prostate gland.
As men get older they become more susceptible to prostate disorders including prostate cancer which can develop in 1 out of 8 American men according to the Prostate Cancer Foundation, and Benign Prostatic Hyperplasia (BPH) meaning the prostate enlarges as men age starting around age 30 and affecting as many as 90% of men in their 70's and 80's according to Johns Hopkins Medicine.
Prostalar® is made in the USA and protects prostates the natural way with effective and proven ingredients that follow FDA and GMP rules. The herb remedy is composed of three key ingredients including: Saw palmetto which reduces DHT levels in the blood and decreases the growth of an enlarged prostate; Holy basil which reduces cortisone levels in times of stress, stimulates the immune system by increasing NK and T-cells, inhibits COX-II and growth of prostate cells, acts as a pain killer and anti-inflammation agent, and kills nearly all sorts of bacterial, viral and fungal in vitro; and Lycopene, the most powerful anti-oxidant that protects cells from the damage cause by free radicals. There are some existing products that contain one or two of these ingredients, but Prostalar® takes it one step further by balancing them for maximum effectiveness, yet still avoiding undesirable interactions.
Each bottle of Prostalar® contains 60 softgels for men to take 2 pills daily, or as recommended by their health care professional. Unlike prescription medications, side effects for Prostalar® are rare, but mild stomach upset was occasionally observed which could be alleviated when taken with food. For more information visit http://www.medveal.com
About Medveal LLC.
Based in Fremont, California, Medveal produces high quality nutritional supplements designed to help individuals lead a healthier, happier and fuller life. Founded by researchers with years of experience in the pharmaceutical industry, the all natural, safe and effective herbal ingredients create remedies that are unlike any other drug out there today. Medveal's proven formulas can help enhance health and transform a body.
Contact:
Aaron Li
(855) 334-6918
Info(at)medveal(dot)com