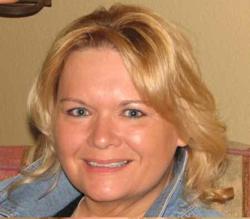 Michele Newton is a 'beacon of HOPE' for our bereaved families
Phoenix, AZ (PRWEB) April 06, 2012
While not presidential in scope, there is a close race in progress on Facebook and the MISS Foundation is enlisting the help of its many U.S. and international supporters to see a special candidate through to victory.
Mere votes separate Michele Newton, a longtime volunteer with MISS, from the competition. Newton was nominated as a "Hero with a Heart" to win a grant award sponsored by the CTK (Community TechKnowledge) Foundation, "in celebration of the unsung heroes of the non-profit world." Selected from a diverse group of various community service providers across the country, three "heroes" will be chosen after voting closes, through Sunday, April 15, 2012, and awarded $5,000 to spend as they wish. The winner also receives a professionally produced video about their affiliated nonprofit for use in public awareness and education. Voting takes place on Facebook. MISS is asking supporters to vote for Newton on the CTK's Facebook Page. Voters must first "LIKE" the CTK Facebook page, then click to page 2 of the Heath and Human Services Page, then check the voting box for Michele Newton.
CTK's Non-Profit Software Solutions helps non-profits, including health and human service providers, manage data on clients, activities and programs in order to develop reports to determine outcomes and performance from the services and funding that directly impact communities around the nation.
Newton found MISS ten years ago, after she lost her 15-year old son, Branden, to a skateboarding accident. The MISS Foundation CARES for families before, during and after the death of a child of any age, from any cause. Newton became a volunteer eight years ago this month. She gives her personal time working with MISS families through facilitating up to 6 support groups per month for grieving families and hosting grief workshops. MISS calls her "a beacon of hope."
"MISS has been a Godsend to me and many other families," says Newton. "Through MISS I am able to continue to mother my son. It is a way for me to help others through the horrific journey of learning to live without their child." Newton goes on to say that living without Branden has been "a painful journey…now it is my hope that no other families travel alone."