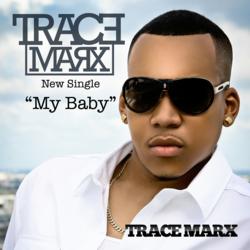 Miami, FL (PRWEB) April 06, 2012
Hip hop artist Trace Mark recently released his single "My Baby." Currently a Coast 2 Coast Priority Track, it is now available for free download. "My Baby" has been added to rotation on 23 radio stations nationwide and the music video now has over 150 thousand views on YouTube.
Utilizing a distinct mix with his lyrics and flow, Trace Marx demands his audience's attention from the first note to the last echo of every song stamped with his signature vocals. Having moved to the cultural melting pot of South Florida from the United Kingdom with a Jamaican upbringing at a young age, Marx is able to reach audiences from all walks of life. His love of poetry evolved throughout his teenage years until one day he realized the potential for magic when he combined his writing with an instrumental. By studying, but not mimicking, his predecessors, Marx has been able to develop a new and unique flavor to add not just to hip hop, but to many other genres.
Marx has been encouraged by his peers and the community at large, with a sizable following of 37 thousand fans on Facebook and over 12 thousand Twitter followers. Each of his shows sees an increase in attendance, and he has opened up for acts such as Beenie Man, Trina, and Ace Hood. He was recently nominated for "Best Southern Rapper" at the Underground Music Awards. Motivated by the experiences of his youth, Trace Marx has established goals of not just exceeding the usual expectations of an artist, but also developing into a key component in a business economy.
"My Baby" is available for free download at http://hulkshare.com/09ytmsvpyg8x