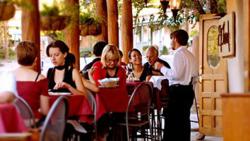 Santa Fe, New Mexico (PRWEB) April 07, 2012
While the skiing has ended at local ski area Ski Santa Fe, things are heating up at local restaurant night spots in Santa Fe, New Mexico. El Farol, a Featured Business on the SantaFe.com Business Directory and the oldest bar and restaurant in Santa Fe, is bringing popular legendary local Latin group Nosotros to the stage at 9 p.m., Friday, April 13. Known for their extremely danceable salsa music, Nosotros is considered by many in and around Santa Fe and the Southwest as one of the best local bands in the area. Nosotros is a tight-knit band with a core group of musicians that have been with the band for the better part of 20 years.
Nosotros has built itself up over the years into New Mexico's top Latin dance band, effortlessly combining several styles of music including afrobeat, jazz, bachata, cumbia, meringue and the ever-popular salsa. Beginning in Las Cruces, New Mexico in 1994 as a guitar trio, the band developed a following throughout the Southwest for its own brand of traditional and contemporary Latin music. During this early period, the band self-produced two albums, "Paloma" and "Pico," both of which received fantastic reviews from music critics. The band then teamed up with percussionist/producer Chris Trujillo (Diana Ross, Tom Petty, The Black Crowes, Rod Stewart) to put out the group's third LP, self-titled "Nosotros." The LP garnered the band several New Mexico industry awards which propelled them into top regional music venues, topped by a performance for the New Mexico Governor's Inauguration Ball in 2007. The group put out its fourth LP, "Llena La Alma," during 2011. which was produced with Grammy Award-winning engineer Doug Geist.
About SantaFe.com
SantaFe.com provides Santa Fe and visitors to Santa Fe alike the most current interactive platform for events, music, arts, business, dining, and lifestyle. SantaFe.com is a division of Hutton Broadcasting, located at 2502 C. Camino Entrada, Santa Fe, NM 87507
Contact Information:
Scott Hutton
SantaFe.com / Hutton Broadcasting
(505) 471-1067 (Media inquiries only, please)
About El Farol
Built in 1835, El Farol, which means warmth and light, is a Spanish restaurant that specializes in tapas, Tapas are small individual portions of mouth-watering foods served individually or in a grouping. El Farol provides live entertainment nightly seven days a week featuring all styles of music and dance. El Farol is located at 808 Canyon Road, Santa Fe, NM 87501
Contact Information:
David Salazar
(505) 983-9912