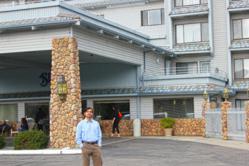 We're going to work to reposition it to highlight the South Gate to Yosemite. We're showing off one of the country's crown jewels, we want people to focus on a great Yosemite experience, and not worry about where they are going to lay their head
Oakhurst, CA (PRWEB) April 06, 2012
A popular hotel at the busiest entrance to Yosemite National Park is under new ownership.
Raj Patel is the new managing partner for the Shilo Inn: Yosemite Southgate Hotel & Suites in Oakhurst, located about 15 minutes south of the Highway 41 entrance to Yosemite. It's the fifth hotel he and his family now own, the second in a Yosemite gateway and possibly the property about which he's most excited.
"We love The Park; everyone comes here from around the world for a reason. It's one of the most inspiring places, it inspired us," he said.
Patel said the only real change necessary with the property is a new focus they have. "It was very corporate before, now we're really family oriented," he said. "It has had this cookie-cutter, bland feeling and we're going to work to reposition it to highlight the South Gate to Yosemite. We're showing off one of the country's crown jewels, we want people to focus on a great Yosemite experience, and not worry about where they are going to lay their head," he said.
The family friendly nature of The Hotel carries on to the staff, which had remained the same since the Patel's have purchased the property.
"We didn't want to make dramatic changes; people's livelihoods are at stake. There's a standard of morality, of doing the right thing," he said. "It's a warm, hospitable environment, and that is felt by the guests as well."
That would explain the Shilo Inn's reputation. Various online sources have it as the highest ranked property in regards to customer service in Oakhurst, something Patel said makes him proud of his staff.
"The staff is doing a great job, I've been here a month and I've had no issues with anyone."
The other change is a rebranding of the hotel. Currently known as the Shilo Inn, the family will be shifting away from the focus on the flag to the area's biggest attraction with a rename to the Yosemite Southgate Hotel & Suites.
"We're putting the focus on the gate, it's all about character building," he said. "We're going to be adding Yosemite photos from local photographers, carved bears to match the theme of the town, really showcasing what this area is about."
To add even more incentive for travelers to stay, and to help introduce them to the new owners, they've initiated a creative marketing plan intended to draw people to their website.
"In celebration of Easter we've hidden some 'Easter eggs' on our website, room nights that range from $0 - $35 nightly throughout different dates during the year," he said.
You can find those deals, and more, at http://www.YosemiteSouthGate.com.
-END-