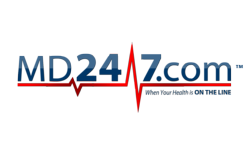 Fight depression with MD247.
Tampa, FL (PRWEB) April 06, 2012
Telemedicine provider MD247 announced the release of a series of blog articles covering the topic of depression, which is considered the common cold of mental disorders. Most people will be affected by depression in life, either directly or indirectly by way of a friend or a member of the family. Confusion is commonplace about what depression is, and what makes it different from just feeling down. Confusion also surrounds the many types of depression (e.g., unipolar depression, biological depression, manic depression, seasonal affective disorder and dysthymia) that people may experience. There have been so many terms used to describe this set of feelings that we have all felt at one time or another in our lives. For this reason, MD247 decided that it is time to set the record straight through an article series.
MD247 telemedicine professionals indicate that depression is characterized by a series of common symptoms. These include a persistent sad, anxious, or "empty" mood, and feelings of hopelessness or pessimism. A person who is depressed also often has feelings of guilt, worthlessness and a feeling of being out of control or helpless. They no longer take interest or pleasure in hobbies and activities that were once enjoyed; this may include things like going out with friends or even sex. Insomnia, early-morning awakening and oversleeping are all common. Additional symptoms and the outline for future educational articles regarding depression can be found at http://www.md247.com/md247-blog.html.
Seminole Florida based MD247 (MD 247; MD/247; M.D. 247) provides discounted telemedicine healthcare services nationwide to families, and discounted wholesale telemedicine healthcare to businesses. MD247 has successfully provided 25,000 people the ability to talk to a doctor twenty-four hours a day, talk to a nurse twenty-four hours a day, receive discounted prescription drugs and receive discounted in-person healthcare services. In addition to discounted healthcare services, MD247 provides support to groups supporting the employment of veterans of the United States Armed Services. MD247 services, as well as informational blogs, can be found for review online at http://www.md247.com.
MD247 also promotes use of social media to follow the company on Facebook at http://www.facebook.com/md247dotcom, or on Twitter at http://www.twitter.com/md247dotcom.