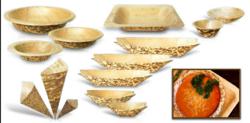 Weddings are a perfect opportunity for planners to choose biodegradable and compostable, over plastic and petroleum.
PHILADELPHIA, PA (PRWEB) April 09, 2012
Spring has sprung, which means that everyone's calendars are filling up with dates for weddings, banquets, and graduation ceremonies. The new owners of ECOCateringSupply.com, a morECO Commerce company, are ready to accommodate the onslaught of large party orders for this festive season. All of the events that are organized during the spring and summer months are great opportunities for caterers and event planners to take advantage of the abundance of eco-friendly supplies that are available. "Weddings are very popular in the spring," says owner of EcoCateringSupply, Kyle Morley, "and they make the perfect opportunity for planners to choose biodegradable and compostable, over plastic and petroleum."
EcoCateringSupply has been an invaluable resource for eco-friendly restaurant and catering supplies for over 4 years. Since its debut, the site has managed to become the most popular source for all things green, and continues to offer competitive prices on biodegradable and compostable products from top manufacturers such as WASARA, Bamboo Studio, PackNWood, Leaf & Fiber and many more. They offer distinctive, ECO friendly products to make any special event stand out. Their commitment to keeping the food industry "green" has made them the top seller for popular products such as biodegradable cups, unique to-go containers, Kraft salad boxes, and natural and black catering trays.
EcoCateringSupply, a tributary of Green Choice Vendors, has made it their mission to inform and provide for the caterers and customers of this spring season. They have also been working to debunk several myths about biodegradable and compostable materials, advertising that their products are:
Durable and elegant
Responsible and affordable alternatives to plastic and Styrofoam
Sanitary and diverse
Disposable and still eco-conscious
Morley urges both current and potential customers to make a commitment to biodegradable and compostable products for this season's graduation parties, wedding receptions, banquets, and fundraisers. "Using bamboo dinner plates or sugarcane plates instead of plastic is a small step in the right direction to an eco-conscious consumer society, and every bit helps."
About morECO Commerce
MorECO Commerce is the parent company and owner of FoodBizSupply.com and EcoCateringSupply.com. In addition, this online arm of Green Choice Vendors is the largest supplier of sustainable products and foodservice packaging at incredible prices. The company sells more than 500 biodegradable and recyclable items from leading brands such as Solo Bare, EcoProducts, Tork, NatureFlex, Fold-Pak, Vegware and Duro.
To purchase, or inquire about designer table displays, compostable partyware, disposable bambooware, clear PLA cups and lids, utensils, sustainable placesettings, and other eco-friendly food service products, visit EcoCateringSupply.com or FoodBizSupply.com. They are also available by phone at 1-(888) 611 3488 or email at morECOcommerce(at)yahoo(dot)com
Thank you for your interest and use of sustainable products!