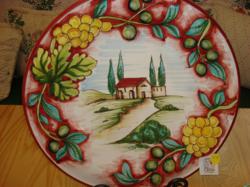 We are a great source for unique, quality and affordable Italian-style wedding gifts online
Los Gatos, CA (PRWEB) April 07, 2012
Featuring the memories of old world Italian hospitality through quality handcrafted Italian art, Gioia Company is dedicated to providing unique pieces, and is now offering great new gift ideas for an Italian wedding and a wedding registry.
"We are a great source for unique, quality and affordable Italian-style wedding gifts online," Kathy Winkelman of Gioia Company said. "We also work directly with artists and can customize your Italian wedding gifts or create a wedding registry with you."
From the comfort of home, Gioia Company features online shopping that is easier and more practical for all clients. Gioia Company offers a variety of products and customizable gifts, such as Murano glass jewelry made in the U.S., the creation hands sculpture, Rafael angels and other Italian sculptures. Other available items for an Italian wedding include stone tiles made in the U.S., Venetian lace, Italian ceramics, Italian linen tablecloths, Italian dinnerware, Italian flatware, and Italian glassware, including wineglasses made in the U.S. and Italy, Murano glass bottle stoppers, and inlaid wood wedding music boxes from Sorrento. Unique aspects of an Italian wedding are bride and groom Venetian masks. Take advantage of Gioia Company's already low prices for these gifts and other Italian art products.
"We received the necklaces on Friday. I love both, and I am very happy, thank you so much," customer Maria of Oklahoma City said. "I truly love the red necklace. The colors are eye catching and vibrant. I love the yellow with pearls even more. The flow of the glass beads to the pearls is so free-flowing, calming, and yet so elegant. I appreciate everyone's effort and time in putting them together for me. I will be proud, as I always am, to wear such a unique work of art that reminds me of my culture and country of birth."
For more information about Italian wedding gift ideas, a wedding registry or any of Gioia Company's products or services, call 408-640-6628, or view the company on the web at http://www.gioiacompany.com. Gioia Company is always open by appointment.
About Gioia Company
Gioia Company is a Los Gatos-based, specialty online company that provides fine Italian art and unique Italian gifts to destinations near and far. Founded in 2006, the company derives from a strong tradition of old world hospitality, time-honored craftsmanship and a passion for the Italian arts. Collecting only the most unique and astounding pieces, Gioia extends an array of artistic selections, such as Venetian masks, jewelry, sculptures, inlaid wood, Italian linens, laces, statuary, stones, kitchenwares and more.