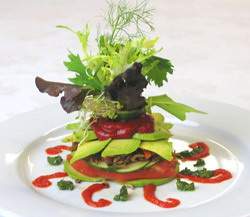 We've gone way beyond carrot sticks, and that's the trick – healthy food must tantalize the taste buds or no one would eat it.
Mendocino Coast, CA (PRWEB) April 10, 2012
Raw food revolutionary chef and author Cherie Soria, founder and director of Living Light Culinary Institute, is taking a crew on the road to four cities to teach the school's introductory raw food course FUNdamentals of Raw Living Foods. The tour is designed to illustrate why a "high raw" vegan diet has emerged as one of the top health-promoting weight loss programs in the country— perfect for those who dislike counting calories. At the 35th Annual Total Health Show in Toronto April 20-22 Soria will teach a 3-hour workshop "Raw Foods for Health, Beauty and Longevity," and will demo several healthy raw vegan recipes. She'll also give two talks at the event, "Stay Young Longer," about her personal raw food program, health practices, beauty rituals and the anti-aging regimen that helps maintain her youthful appearance and vitality at age sixty-five (along with three black belts in karate).
Another talk, "Gain Energy with Raw Foods" focuses on how to maintain optimal weight on a raw vegan diet. She'll also offer free public talks and book signings at multiple venues in Vancouver, B.C. April 12-14, Toronto April 17-28, Seattle May 1-5, and Portland, Oregon May 6-12.
"There are many keys to achieving a more naturally youthful appearance, brighter eyes, a clearer complexion, more supple skin, shinier hair, stronger nails, a sharper memory, and a more positive outlook on life," says Soria. "In my experience, one thing stands out among the rest—raw plant foods."
FUNdamentals of Raw Living Foods is a lively, fast-paced course that includes easy-to-prepare raw vegan recipe demos of appetizers, fruit smoothies, soups, green juices, salad dressings, entrées, pâtés, sandwich wraps, nut milks, non-dairy cheeses, crackers, and other dehydrated snacks. The $375 tuition includes a full buffet lunch of organic raw vegan foods and samples of nearly all 18 demos. Students learn sprouting and kitchen gardening, how to make fermented foods like "live" sauerkraut, and how to create simple menus using essential equipment and supplies specific to the raw food kitchen. Talks include "The Secret of Great Dressings, Marinades, and Sauces," and "Quick and Easy Meal Prep." "Introduction to Basic Knife Skills" helps students learn how to choose and use the perfect kitchen knife for every task.
"Many people call me the 'Mother' of gourmet raw vegan cuisine because I was the first to begin creating delicious raw vegan foods that look and taste like favorite comfort foods." says Soria, " We've gone way beyond carrot sticks, and that's the trick – healthy food must tantalize the taste buds or no one would eat it."
As part of her health, beauty, and weight maintenance program, Soria outlines some basic food categories:
Top 10 Raw Food Categories for Health and Beauty
1. Deeply colored foods high in phytonutrients and antioxidants that combat free-radical damage and promote eye health. Examples include blue or purple foods such as blueberries, blackberries, black mission figs and beets
2. Leafy greens like collard greens, kale, spinach, Swiss chard, dandelion greens, beet greens, bok choy, many lettuces, broccoli, and Napa cabbage
3. Yellow-orange fruits and vegetables such as squash, peaches, sweet potatoes, carrots; and red bell peppers.
4. Grasses and algaes, such as wheat grass, barley grass, leafy green sprouts, blue green algae from Klamath Lake, spirulina and chlorella.
5. Foods high in vitamin C, such as lemons, oranges, grapefruit, peaches, strawberries, pineapples, mangoes, papaya, kiwi, cantaloupe, broccoli, cauliflower, Brussels sprouts, tomatoes, bell peppers, romaine lettuce, kale, and mustard greens.
6. Foods containing omega 3 fatty acids, such as chia, flax, and hemp seeds and dark green leafy vegetables like kale, romaine, and dandelion greens.
7. Foods containing selenium, particularly Brazil nuts.
8. Foods containing zinc, such as pumpkin seeds, sesame seeds, sunflower seeds, pine nuts, cashews, and lentils.
9. Foods containing iodine, such as kelp and dulse.
10. Hydrating foods, such as juicy fruits, high-water-content vegetables, and of course good quality pure water.
Living Light Culinary Institute offers a comprehensive professional curriculum in gourmet raw vegan food preparation. Students learn a progressively complex set of culinary skills, from mastering knife techniques and setting up a healthy kitchen, to charting a menu, catering an event, and learning how to do professional culinary demos. Recipe development, pastry arts, and raw nutritional science are also included in the school curriculum. FUNdamentals of Raw Living Foods is a course prerequisite for all of the school's culinary certification programs.
Cherie Soria, author of several books, including the classic Angel Foods: Healthy Recipes for Heavenly Bodies, and The Raw Food Revolution Diet, is founder and director of Living Light Culinary Institute in Fort Bragg, California, and has been teaching gourmet raw vegan cuisine since 1998 and vegetarian culinary arts for more than 40 years. She also has three black belts in karate. Living Light International has four eco-friendly businesses on the Mendocino coast of Northern California: Living Light Culinary Institute, Living Light Café, Living Light Marketplace, and Living Light Inn. Visit http://www.RawFoodChef.com or call 707-964-2420 for additional information.