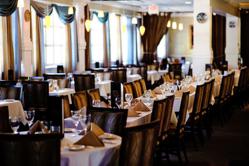 On Sunday, May 13, join us for what will be a wonderful and calming 'Mother's Day Smooth Jazz Champagne Brunch' at both the Cupertino and Redwood City locations
Cupertino, CA (PRWEB) April 07, 2012
The premier San Jose Middle Eastern restaurant, Arya Restaurant, offers exotic menus, belly dancing and banquet rooms, is announcing a special brunch and dinner in honor of Mother's Day.
"On Sunday, May 13, join us for what will be a wonderful and calming 'Mother's Day Smooth Jazz Champagne Brunch' at both the Cupertino and Redwood City locations," Fera Hashemi of Arya Restaurant said. "In addition to a brunch that offers a variety of choices for a four-course meal, we will also be hosting a dinner and live jazz music all day."
The brunch offerings will begin at 11 a.m. and will include a number of food choices, including but not limited to a vegetarian omelette, a Waldof salad, a salmon shish kebab, pollo madera and a chocolate duet. The "Mother's Day Dinner" will start at 4 p.m and also includes a variety of options for a four-course dinner menu, such as Borani Bademjoon, an Arya salad, a filet mignon shish kebab, lamp chops, a chocolate duet and many more options. Both the brunch and dinner options cost $45 per person, plus tax and gratuity. Children 3 to 12 years old cost $19.
"Let us treat your moms like a queen on this special day," Hashemi said.
For more information about the Mother's Day brunch or dinner or any of Arya Restaurant's products or services, call 408-996-9606 or view the Middle Eastern restaurant on the web at http://www.aryarestaurant.com. Arya Restaurant has two locations at 19930 Stevens Creek Blvd. in Cupertino or 885 Middlefield Road in Redwood City.
About Arya Restaurant
San Jose's Arya Restaurant is a Middle Eastern restaurant that features belly dancing, global cuisine, and delicious and exotic Persian and Italian food. The restaurant is the result of Chef Mike Hashemi's love for Persian and Italian food, as well as his love for cooking and serving people with the best of both worlds. Arya's San Jose banquet rooms are available for every occasion.