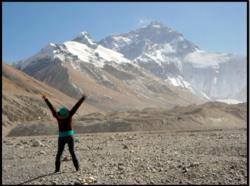 I am planning to go again in the future, off course with Explore Tibet Team. They were awesome! Seriously I had the trip of my life with them!
(PRWEB) April 07, 2012
It is very obvious that planning a Tibet trip is very complicated for foreigners; most of the travelers have to experience very long and tiring procedures. According to Diana Arocha who traveled with Explore Tibet 2011, she said: "When I was planning my holidays last December (2011) I had the idea to visit Tibet. I contacted around 15 agencies in two weeks to get prices and itineraries. The amount of information I had to analyze was overwhelming. Some agencies had extremely cheap prices, but when I looked closer they didn't include things that most other agencies do, e.g. entrance fees. In addition, most agencies seemed to only care about the money and not so much about the service quality (asking me to pay as soon as possible but sending me aggressive emails with a lack of "client "concept). Being a keen environmentalist and craving a true Tibetan experience, I came up with Explore Tibet Team. Not only was this the only agency, which truly responded my email with a kind and attentive language, but also the price was within an affordable range. The best thing was that they were a responsible eco-tourism agency: following principle of working with Tibetans only and taking care of Mother Nature".
Explore Tibet always extends its full helping hands to bring convenience for clients, especially for ticket bookings, and Explore Tibet uses every effort to meet clients requirement. Diana had a good experience when she booked the Tibet tour with Explore Tibet, she said: "Sonam Jamphel, the owner of the agency, answered all of my questions and was extremely helpful throughout the entire journey. We asked him to buy railway tickets from Beijing to Lhasa for us and they even delivered them for us at the hostel we were staying at. He never rushed me for the money and never hesitated that he could get the tickets for me. That gave me a lot of confidence regarding his service. So, I did all in and embarked myself in an adventure I had never imagined".
Besides the safety and systematic travel arrangement, customer experience is one of the priority goals of Explore Tibet and it practices strict policies to meet their promises to the clients. According to Diana Arocha end of her Tibet tour, she stressed that: "My Tibet tour was truly unforgettable and I would recommend Tibet for everyone. I am sure that if you explicitly ask Sonam Jamphel about any preference you have regarding this, he would sort it out for you. He is really a kind and nice person! "
And she added that: "Regardless of this, the magic of Tibet stayed with me during the whole trip and I am planning to go again in the future, off course with Explore Tibet Team. They were awesome! Seriously I had the trip of my life with them!"