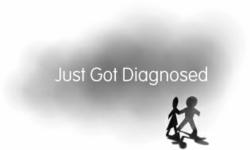 New York, NY (PRWEB) April 10, 2012
Dr. Gary McClain of JustGotDiagnosed.com will be interviewed on Healing Circle on April 11, 2012. Healing Circle is a national teleseminar with individuals who are being treated with chemotherapy, sponsored by HappyChemo.com. A specialist in the emotional impact of chronic and catastrophic illnesses, Gary McClain, PhD, developed JustGotDiagnosed.com to address a serious need he saw going unfulfilled; namely, a way for newly-diagnosed patients to receive help in coping with their emotional reactions to their diagnosis. McClain will share his insights on how to cope emotionally with a cancer diagnosis and cancer treatment.
"I am honored to have the opportunity to share my experiences in working with cancer patients and caregivers with my friend Ginger Johnson of HappyChemo.com," McClain said. "Ginger is an incredibly brave woman with an amazing cancer survivorship story of her own, who has made it her mission to reach out to individuals facing cancer treatment, to offer them support and – yes, happiness – during their treatment."
"Think about the blessing that this teleseminar is for patients who are on this journey. It is a safe place for them to talk about cancer treatment with others who understand them because they are facing the same challenges. I am really looking forward to offer whatever knowledge and experience that I can, as well as learning from the patients who participate in the call."
Healing Circle is a weekly teleseminar series for chemotherapy patients featuring experts on cancer related topics, held on Wednesday evenings at 7 p.m. MST. Recent topics have included body aches, hair loss, and choosing and oncologist. Patients from around the US participate in the series.
"Cancer treatment brings up a lot of emotions for patients," McClain continued. "Anger, sadness, disappointment, fear, among others. Coping begins with acknowledging emotions, and asking the 'Why me?' question. This is all part of the journey toward acceptance, returning to your center, reconnecting with the joy of life, and having a vision for the future. It's a process, unique to each individual. Coping emotionally is an important step toward getting prepared for the road ahead."
About HappyChemo.com
HappyChemo.com was created by Ginger Johnson, a cancer survivor. The mission of HappyChemo.com is to ease the fear, frustration and financial burden associated with cancer by connecting survivors and caregivers to products, services and resources provided by qualified local and national partners. Their vision is to provide hope, help and happiness to every cancer patient and caregiver in America...and eventually the world. Sign up for Healing Circle is available through HappyChemo.com.
About Dr. Gary McClain and http://www.JustGotDiagnosed.com
Dr. Gary McClain is a licensed counselor, educator, life coach and author who specializes in working with individuals who have been diagnosed with chronic and catastrophic medical conditions, focusing on issues that include coping emotionally, gathering information, making lifestyle and treatment decisions, managing relationships, and communicating with healthcare professionals. As "Dr. Gary," he blogs on patient social networking boards on http://www.AllianceHealth.com. Founded and developed by Dr. McClain, JustGotDiagnosed.com offers information, guidance and inspiration for newly diagnosed patients, their caregivers, and healthcare professionals. His program for newly-diagnosed patients, Prepared for the Road Ahead ™, is focused on the emotional, lifestyle management, communications, and vision for the future. Visit http://www.JustGotDiagnosed.com.