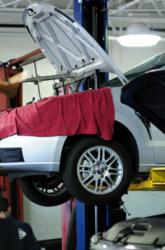 Many drivers depend on their older Ford cars because they cannot afford to buy new ones.
Detroit, MI (PRWEB) April 07, 2012
Buying remanufactured engines might not be familiar to the average person that owns a new car or truck, but to used engine buyers remanufactured engines are very familiar. The demand for these engines has grown annually since the 2008 downturn in the economy. Some automotive dealerships have raised the cost of warranty repairs and engine replacements to help recover lost income from slowing automotive sales. The secondary engine market is growing rapidly and one company is cashing in on this growth.
One of the largest Internet engine retailers, Remanufactured Engines for Sale, has received its largest shipment of Ford engines at its main warehouse. This multimillion dollar inventory shipment is the first of its kind for this 5-year old online engine retailer. "We can hardly keep up with the demand," said Joe Kern, the head of the engine shop and receiving department. "Many drivers depend on their older Ford cars because they cannot afford to buy new ones right now. A remanufactured engine is providing them with performance and quality without the high cost of a new engine," he added.
According to a 2011 survey of major U.S. automakers, Ford now has more dealerships and warranty service centers in the U.S. than any other automaker in the world. The sales of Ford vehicles, trucks and SUVs continues to climb annually. While most engine problems in a new vehicle are covered by dealership warranties, many used car owners have to pay out of pocket for repairs and restoration expenses. There are reported increases from body shops, engine mechanics and junkyards around the country for remanufactured Ford engines to be used as complete engine replacements.
A remanufactured engine is unlike a used engine that is pulled from an old vehicle. These engines are completely restored by professional engine builders that are certified to work on Ford engines. Defective parts are removed from used engines and the blocks are completely rebuilt to provide a reliable engine for about one-third of the price of a new engine. Having the choice of remanufactured engines for sale for engine replacement compared with purchasing a new engine is helping many drivers revive their older vehicles to get more years out of them.
About Remanufactured Engines for Sale
One of the very first remanufactured engines dealers to put up a website online was Remanufactured Engines for Sale in Jacksonville, Florida. A small warehouse and a dream to be one of the best engine retailers online has quickly grown into a multimillion dollar business with a large warehouse that ships remanufactured engines to the U.S., Canada and European countries.