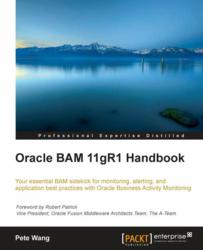 Become acquainted with various technologies and best practices for moving business data to BAM
(PRWEB) April 09, 2012
Packt Publishing is pleased to announce Oracle BAM 11gR1 Handbook, a new book and ebook consists of BAM best practices aimed at advancing the readers BAM knowledge.
Written by Pete Wang this comprehensive handbook provides guidance for building BAM Applications, troubleshooting and performance tuning. It will help the reader to get to grips with load testing BAM applications, configuring LDAP server and SSL for BAM.
This book will enable the user to learn BAM testing methodologies and how to perform load testing for BAM applications. It highlights details on understanding BAM architecture and key concepts for building applications.
Some of the principal chapters emphasized in this book are:
Chapter 1: BAM 11gR1 Architecture
Chapter 2: Designing Your First Data Objects and Reports
Chapter 3: Populating Data Objects with Real-time Data
Chapter 4: Designing BAM Reports
Chapter 5: Testing BAM Applications
Chapter 6: Managing BAM Securities
Chapter 7: Migrating BAM to a Different Environment
Chapter 8: Configuring High Availability for BAM
Chapter 9: Troubleshooting your BAM Applications
Chapter 10: Building your Reports Using ADF
An integral component of Oracle SOA and BPM Suite, Oracle BAM (Business Activity Monitoring) ultimately empowers business executives to react quickly to changing business situations. BAM enables business service and process monitoring through real-time data streaming and operational reports.
Packt Publishing has also released and is due to publish other titles:
Oracle Coherence 3.5 Published 2010
Oracle Service Bus 11g Development Cookbook Published 2012
EJB 3.0 Database Persistence with Oracle Fusion Middleware 11g Published 2010
BPEL PM and OSB operational management with Oracle Enterprise Manager 10g Grid Control Published 2010
All Oracle Fusion Middleware books are published by Packt Enterprise. Packt Enterprise is a publishing division of Packt Publishing created to serve the information needs of IT Professionals in the Enterprise space. Packt Enterprise also publishes on Microsoft, IBM, Oracle, Citrix, Java, Amazon, Google and SAP technologies.