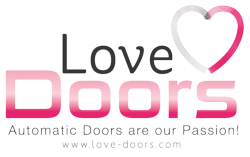 Passion is everything in business.
Bristol (PRWEB UK) 9 April 2012
Automatic Doors and Shopfronts is not a glamorous industry...we all know that. It offers an essential service to important customers for safety, aesthetics and access. That was until Love Doors Ltd came along...they put the 'Heart' into the Automatic Door industry.
The founder of Love Doors Ltd is James Trump. An entrepreneur who may seem like an overnight success, but has been in the industry for over 18 years. Having tried different approaches to market and failing in the past, he had a new idea. Why can't the building industry be sexy, flamboyant and fresh? "I see no reason" he states...and Love Doors Ltd was born.
They offer Automatic Doors, Shopfronts, Aluminum and Glazing and Disabled Access across the UK. They have a brand new online store opening in a matter of days which sends out there massive range of automatic door parts to the UK and Ireland for next day delivery.
The quality of their products is what makes them special....simply the best quality you can find, but get this...at the lowest prices? How you may ask? "I had a plan, a strategy, to offer the highest service available at the lowest price" says James Trump. How does he do that, you ask? "Simple, I keep our overheads extremely low, in fact nigh on nothing. We work with a huge network of teams and companies and suppliers, this saves our customers money but also offers the most reliable and high quality services and products", quotes James.
Sounds the perfect company right? It sure is...and here is there video on You Tube showing a little bit more of that passion and flare http://youtu.be/iiyD2eYCfNQ
James leaves us by saying "If you are going to put your heart into something, then you had better be the best or let someone else take over"...wise words from a passionate entrepreneur.