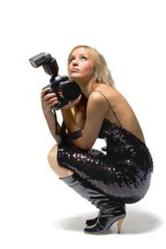 We have a lot of experience in how the modelling industry works'
London, UK (PRWEB UK) 8 April 2012
A fragrant teen modelling beauty bursts onto the modelling scene and blossoms under La Mode's sturdy, reassuring bough.
It's time to meet Jasmin Rajaratnam as La Mode's latest modelling for teenagers portfolio arrives online.
'With her mixed parentage setting her apart from the generic English rose model, Jasmin's striking features are only enhanced by the strength of her convictions,' says a spokesperson for La Mode London. 'With strong female role models in mind, such as Katie Price, it is easy to pigeonhole this gorgeous new aspiring model's sense of feminine icon - but her reasons are not at all obvious.'
'We are very proud of our girl power here at http://www.lamodelondon.com and it was a real pleasure to showcase Jasmin's potential. To be able to reinvent herself time and time again, just like Katie, is top of this young model's agenda and something we here at La Mode heartily applaud.'
With other influences such as Angelina Jolie and Kate Moss, La Mode's latest signing admires not only juggling a successful modelling or acting career with being a wife and mother, but being a gutsy role model herself. 'A model with attitude and longevity in the business is a very desirable and admirable aim', La Mode continues. 'This girl has certainly got her own strong convictions and isn't afraid to speak up about them. Reassuringly, she also has great taste in beautiful women!'
La Mode is very confident that not only Jasmin's looks will make her successful in living her modelling dream, but also her striking features are only enhanced by the strength of her convictions.
Confident and certain she would love the lifestyle attributed to being a model, this hairdressing college student is certainly no stranger to striving all success. Balancing her schoolwork with her modelling, she also manages to find time to travel whenever she can. At 5'8" and just 19, this feline guide, exotic looking girl is seeking advertising and commercial modelling as her core strength. Her deep brown eyes and 26 inch waist is just a couple of assets which complement her 34 1/2 inch leg measurement. Jasmin Rajaratnam is as fragrant as her namesake.
'Like her teen modelling peers, Jasmin realises she has a lot to learn about the modelling industry, which is why she came to La Mode in the first place. Modelling London is where so many modelling jobs are based' says La Mode. 'And we have a lot of experience in how the modelling industry works.'
With her brand-new portfolio now online, Jamsin knows La Mode has given her the best chance she can have to make it in the modelling industry. 'She also knows that we are only at the end of the phone with more model advice whenever she needs it.'
It seems a modelling portfolio is just one step to take to get anywhere in the wonderful world of modelling, but with ongoing advice always on hand, La Mode can reassure any teen model hopeful they are there to help, whenever they need it.