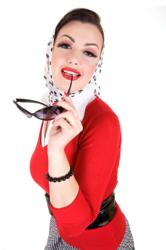 The new section dedicated to model fashion is getting an astonishing amount of hits
London, UK (PRWEB UK) 9 April 2012
'This Summer, fashion is all about reviving the look of the fashion designers of the fifties', says Josie Dodson, accounts manager at UK Model Agencies, 'And we've seen a huge surge in our modelling agencies gaining work for their models dressed to match'.
Mad Men Models required - It's all about the fabulous fifties in this summer's fashion statement according to UK Model Agencies.
As Jubilee fever fills the air and expectations rise for a summer of fun and frolics, it's all about nostalgia and style, say UKMA. The website dedicates itself to being on the ball and discovering all the latest model advice, modelling information and listing the biggest online collection of UK modelling agencies. They also pride themselves on highlighting all the up to date model gossip and fashion trends.
'It's been an amazing month for fifties Spring Fever,' recalls Josie, 'The modelling agencies on our books have had no end of casting calls from clients, all wanting models with the look of the fifties. It's all down to the Mad Men phenomenon.' Josie says.
The model agency directory keeps their ear to the ground and Helen Stark, fashion and beauty editor at UKMA agrees with her colleague.
'The Mad Men mayhem started last year, but in 2012, it's still going strong.' She continues, ' Of course, coinciding with the Queen's Jubilee, the UK is definitely gaining comfort from the recession by looking back to nostalgic times and it's been an absolute pleasure researching fashion designers of the fifties for the website.' The new section dedicated to all that is model fashion is getting an astonishing amount of hits.
'Think Jackie Kennedy, Audrey Hepburn, Christian Dior and Norman Hartnell. The fifties was an era when fashion really took off. It's all about the hourglass shape, cinched in waists and gorgeous clothing. I think every woman has a bit of a crush on the characters in Mad Men and long to dress so glamorously once again.'
Helen explains that every fashion magazine at the moment is full to bursting with fifties style nostalgia.' The looks are definitely based on the American fifties fashion due to the TV show, but Britain is certainly holding its own with Jubilee inspired paisley prints this season. Our Model Fashion section has only just begun. It's an ongoing project but researching the fifties, for me, has been an absolute pleasure.' She went on to enthuse, 'I love glamour and the superb styling, the era which saw so many iconic designers born. What goes around comes around,' she laughs, 'and who would have thought that sixty years later, their designs are seeing yet another revival.'
With the new Model fashion section just launched, Helen hopes to span all the fashion eras very soon. http://www.ukmodelagencies.co.uk celebrates the iconic fashion eras in style.