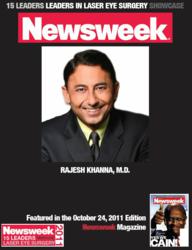 Intacs ring segment implants are a great alternative for patients that are not candidates for corneal transplants. This technology has impressive results and will ultimately help aid patients suffering from Keratoconus and prevent vision loss.
Los Angeles, Ca (PRWEB) April 09, 2012
Keratoconus is an eye disease that affects approximately one person in 1,000 and can lead to a complete loss of vision. Dr. Rajesh Khanna, owner of the Khanna Institute and internationally recognized corneal expert, has announced that he is now offering a cure for keratoconus utilizing Intacs ring segment implants.
Keratoconus is a degenerative condition that causes central thinning and weakness of the cornea. Over time, the cornea loses its round shape and becomes more cone like, causing it to bulge. Often diagnosed in adolescence, it can affect patients of any age. Some individuals experience a slow loss of vision, while the condition progresses rapidly in others. Khanna offers a cure with Intacs implants. Smaller than a dime, they can't be seen by others and restore vision in a discreet yet effective manner.
For those who aren't good candidates for Intacs ring segments to cure keratoconus, Khanna performs corneal transplants. The vision specialist has extensive experience with both methods and counts among his patients some of the most well-known celebrities and athletes worldwide. The procedure takes little time, but patients do require time to heal and the availability of a donated cornea for transplantation. A cornea transplant offers the gift of sight for those who are unable to utilize Intacs implants.
Loss of vision is traumatic at any age, but it's especially devastating for adolescents. Khanna offers cornea cross linking for young people diagnosed with keratoconus, a new and more effective treatment that's been used worldwide. The procedure has an impressive success rate, preventing vision loss in over 95 percent of patients. Cross linking utilizes riboflavin and the eye's natural anchors to strengthen the cornea and prevent the bulging that results in vision loss.
Khanna has used his skill and expertise to restore the vision of world-class athletes and well-known celebrities around the world. He won the Ventura County Star's Reader's Choice Award for Best LASIK Surgeon for four consecutive years, from 2009-2012. Voted Best LASIK Surgeon in 2009 by the Los Angeles Daily News, he's also been named as the team ophthalmologist for the Men's USA Water Polo Team.
An internationally acclaimed vision specialist and surgeon, Khanna is providing a cure for those suffering with keratoconus through Intacs rings segments, cornea transplants and cornea cross linkage. The procedures offer new hope and vision restoration for those who previously had no other long-term options, and patients have peace of mind knowing the treatment is performed by a pioneer and innovator in the field of sight problems.
Khanna can be reached by phone at (805)230-2126 or via email with the convenient form on the website. For more information, visit the website at http://www.thekeratoconus.com.
ABOUT RAJESH KHANNA
Dr. Rajesh Khanna is an internationally recognized LASIK and refractive vision care specialist, and the team ophthalmologist for the Men's USA Water Polo Team. He graduated among the top of his class in medical school and is a member of the UCLA faculty. Utilizing his skills to instruct a new generation of eye surgeons on the safest and most effective techniques and procedures, he pioneered many of today's techniques in LASIK and refractive surgery. Khanna invented a variety of instruments to aid in surgeries and speaks at a myriad of national and international professional venues each year. He participates in refractive surgery conferences and wet labs worldwide. Featured extensively in print and broadcast media, he's received prestigious awards and honors from the World Health Organization. He's a member of the American Medical Association, the prestigious American Academy of Ophthalmology and the American Society of Cataract and Refractive Surgery, and certified by the American Board of Ophthalmology.