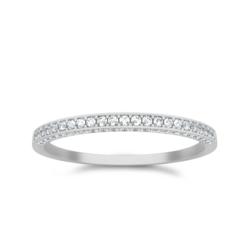 By offering promise rings for men, women and couples, JewelOcean is giving its customers a complete selection
Cockeysville, MD (PRWEB) April 08, 2012
Online affordable engagement rings retailer, JewelOcean.com has announced a new line of Promise Rings, targeting the growing market of girlfriends, men and couples looking for cheap promise rings online. The promise ring collection would become live on JewelOcean.com website starting April 6th, 2012.
As a leader of selling affordable engagement rings, selling promise rings at cheap prices would be a very logical step for JewelOcean. "By offering diamond promise rings, showcasing beautiful designs for both women and men, JewelOcean is offering a complete line up of pre-engagement promise rings to its customers", says Mathew Bruno, manager at JewelOcean. According to him, JewelOcean core strength is in offering discount and affordable diamond jewelry to the customers. The company did not offer promise rings to its customers earlier. However after teaming up with leading jewelry designers, JewelOcean.com has come up with a beautiful collection. Mr. Bruno further adds that the rings available on the website would appeal to all customer demographics, where customers such as men looking for promise rings for women, or women looking for promise rings for men, would certainly find diamond rings at cheap and affordable prices.
Customers would also be able to customize the promise ring, with their choice of engraving text for a small additional price. Many of the diamond promise rings can also be customized with the customers' choice of birthstone, so they can make a unique ring based on their choice and preference. By making these pre-engagement rings on both gold and silver, JewelOcean is able to make them more affordable.
"Promise rings are used by couples as form of commitment to each other. That is main meaning of promise rings. They do not want to spend a lot of money as many of them are in high school or in college. And since these rings are not used as engagement rings, it is important that we are able to offer them at low prices", says Mr. Bruno, when asked about the meaning and concept of new collection.
A leading online diamond rings retailer, JewelOcean makes engagement rings, wedding sets and has now started to offer promise rings. All orders on JewelOcean come with free shipping and refund policy. With thousands of positive customer ratings and reviews, customers can find their ideal promise rings at affordable prices.