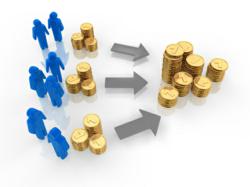 (PRWEB) April 07, 2012
Crowdfunding experts will meet at the Sheraton New York Hotel & Towers on April 19, 2012 for The Crowdfunding Conference to discuss the future of the now legal, but not yet unleashed, equity financing method for small businesses recently formalized by the signing of the JOBS Act by President Obama.
Leading founders of crowdfunding websites (known as platforms under this law) such as Slava Rubin (Indiegogo), Robert Dobyns (Conzortia Business Funding, Inc) and Brian Meece (RocketHub), to name a few, will be in attendance.
The event will also include analysts and advisors from a wide spectrum within the finance community, including leading venture capitalists which see crowdfunding as a "first step" for many startups.
"This is an exciting time for small businesses and small investors alike," Dobyns remarked. "Crowdfunding will do for small business funding, what the internet has done for communication."
Topics at the conference will focus on legal aspects of the emerging industry, segmentation and specialization of platforms and how venture capital fits into the overall equation.
For more information on crowdfunding, visit http://www.Conzortia.com