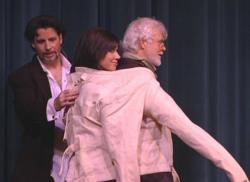 The performance is both funny and intriguing, and never fails to have the audience laughing out loud.
Los Angeles, California (PRWEB) April 09, 2012
Los Angeles Magician Austin Brooks has taken the traditional straight jacket escape and put a fresh spin on the act. Brooks' newest magic routine features a two person straight jacket, replete with four arms and extra straps. Two people are strapped into the jacket, one behind the other, and they must escape from the contraption before the end of a song. The act is both funny and intriguing, and never fails to have the audience laughing out loud. This is just one of the many entertaining routines in Austin Brooks' arsenal.
Austin Brooks' original two person straight jacket routine starts with a member of the audience coming up on stage. Participants range from CEOs to managers to guests of honor. The participant is introduced to one of the magician's assistants, and then locked into a 4-arm straight jacket with the assistant. Another audience member ties the straps, which wrap around the body of the jacket and through the participants' legs. As music plays, the assistant proceeds to wiggle out the bonds, and release both her and the captive participant from the binding straps. What ensues is a great deal of laughter and a healthy dose of amazement.
This act is just one of Austin Brooks' lively, original performances that will have guests talking long after the curtain closes. Brooks knows how to capture the audience's attention and get them laughing so a good time is enjoyed by all. This type of entertainment is great for corporate functions, private parties, awards shows, or holiday gatherings. Brooks' shows can accommodate anywhere from 20 to 2,000 people, and the casual but professional performances are perfect for any demographic. In addition, each and every show can be customized for the intended audience or corporate brand.
Master Magician Austin Brooks has performed his unique mix of street magic, illusion, comedy, and mentalism for many well-known clients and corporations. His previous clients include Warner Brothers, Virgin Records, Holiday Inn, Sony, Jose Cuervo, Oscar Mayer, and Arm & Hammer to name a few. Client testimonials laud Brooks for his uplifting, awe-inspiring shows, and his ability to incorporate branding into the performances.
About Austin Brooks
Los Angeles Magician Austin Brooks has a long and celebrated history as a magician. He was accepted into the renowned Chavez College of Magic at the age of 17, and graduated at the top of his class and one of the youngest magicians to graduate from the college. He then went on to perform across the country at top comedy clubs, hotels, and even Las Vegas casinos. He has since published an authoritative book on magic titled, 'Making Magic Art'.
You can find out more information about Los Angeles magician Austin Brooks and his original brand of magic and see a video of the straight jacket performance at http://losangeles-magician.com.