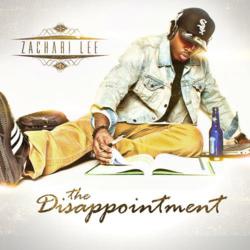 Miami, FL (PRWEB) April 07, 2012
Hip hop artist Zachari Lee recently released his mixtape "The Disappointment." Coast 2 Coast Mixtapes presents the project, which is now available for free download. "The Disappointment" features Zachari Lee on tracks with guest artist appearances from Jessica Caldwell and Slim of 112.
A small-town boy with big dreams, Zachari Lee graduated high school and moved to Greensboro, NC to attend North Carolina A&T State University. Lee soon realized that life is too big so be so complacent with a 9-5 job, and began to enter spoken word events, eventually linking up with other students who had "dorm room studios." After recording several tracks from a dorm, Lee was introduced to Ira Parker of Maximus Music Recording Studios and began his pursuit of success in the music industry.
Starting out with the cliché pen and pad story in 2002, Zachari Lee has managed to grow and develop into a talented MC and songwriter. After meeting a key contact, Tommy Rotem through Myspace in 2009, Lee has managed to submit songs for Leona Lewis, Jordan Sparks, and IYAZ. Along with songwriting endeavors, Lee has opened up for renowned musical sensation Chrisette Michele, along with Flo-rida, Mike Jones, Plies, and J.Blue. He headlined his own high school circuit tour in Carolina, the "Like I'm Famous" tour, performing in front of thousands of high school and college students at a time. It iss evident that Lee's performance skills come naturally. "After studying the game for years and watching performance after performance it became a part of me," he says. "Performing is who I am. This is my life."
Through extraordinary lyrics and keen energy Lee's style is present on every song. "I want to become the Vincent Van Gogh of music," he states. "I want people to live through me. I want people to use me as therapy when they feel nobody relates. I want to inspire people to overcome adversity as I have. I want to and will ultimately be an icon."
"The Disappointment" is available for free streaming and download at http://coast2coastmixtapes.com/mixtapes/mixtapedetail.aspx/zachari-lee-the-disappointment