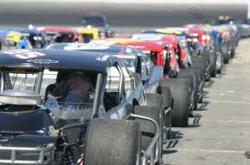 Thompson, CT (PRWEB) April 09, 2012
Thompson International Speedway in Windham County, Connecticut is bringing its icebreaker weekend to racing fans on April 14 and 15—introducing the solar-geared GP.Energy of Berwyn, Pa. as one of its latest major track sponsors.
"GP.Energy is absolutely honored to be a sponsor and part of a fourth generation family-owned business such as Thompson International Speedway," said GP.Energy President Jason Ulshafer. "It gives us an opportunity to tell our story to a lot of people and educate the consumer on ways they can save energy and really reduce their costs."
With the first asphalt race track and closed circuit road racing course in the U.S., opening in 1940, Thompson International Speedway stands apart in its historical integrity but also in bringing a greener mindset to its thousands of visitors.
"It is a great opportunity to co-brand with GP.Energy as they are introduced into the New England market," said Jon Hoenig, Owner and Operator of Thompson International Speedway.
Hoenig also serves as the Vice President and Director of New England Operations for GP.Energy, strengthening the partnership in this push toward an eco-intelligent future.
"GP.Energy is very community-driven, which fits well with the historic New England family business that has been a major part of the region for close to 75 years," Hoenig said. "It is also great to have an opportunity to add a 'green' element to stock car racing, which is traditionally environmentally unfriendly."
"It demonstrates how two companies, one old and one young, can come together for a common goal in promoting renewable technology," Ulshafer said.
"Every home and business owner should take advantage of solar power to conserve our natural resources and save money," Hoenig said. "It should come to a point where having solar power is as common as having a water heater or a washer and dryer."
GP.Energy's mission is to provide the most cost-manageable, innovative alternative energy solutions that create impact for clients. As one of the largest fully integrated solar developers serving New Jersey, Massachusetts, Pennsylvania, Delaware, Connecticut and Maryland, GP.Energy strives to provide affordable solar through commitment to quality and persistence in excellence.