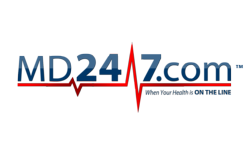 Medicare patients need to be wary of scams.
Tampa Florida (PRWEB) April 07, 2012
Seminole, Florida based telemedicine specialist MD247 issued a warning to Medicare recipients regarding a ripoff scam being perpetrated against diabetic Medicare recipients.
In a review of source information for a series of articles discussing diabetes mellitus, MD247 staff stumbled upon a spate of warnings regarding scammers and ripoff artists attempting to defraud patients with the lure of free diabetic supplies. Parties initiating the calls make promises of "free" glucose testing supplies, orthotics and heating pads in exchange for Medicare information. Particularly savvy scammers have gone so far as to demand the financial information of patients being called and, in most cases, they managed to put enough pressure on the patients to get the information. Needless to say, the practiced ripoff artists have either left patients paying for products they never received or paying for much more than was ever intended.
Information regarding these scams made the MD247 team sick. The MD247 team understands the realities of both types of diabetes mellitus, and would never jeopardize the health or financial stability of a patient. Just like MD247 patients, MD247 staff understands that every moment and every dollar counts.
Seminole, Florida based MD247 (MD 247; MD/247; M.D. 247) provides discounted telemedicine healthcare services nationwide to families, and discounted wholesale telemedicine healthcare to businesses. MD247 has successfully provided 25,000 people the ability to talk to a doctor twenty-four hours a day, talk to a nurse twenty-four hours a day, receive discounted prescription drugs and receive discounted in-person healthcare services. MD247 also promotes use of social media to follow the company on Facebook at http://www.facebook.com/md247dotcom, or on Twitter at http://www.twitter.com/md247dotcom. In addition to discounted healthcare services, MD247 provides support to groups supporting the employment of veterans of the United States Armed Services. MD247 services, as well as informational blogs, can be found for review online at http://www.md247.com.