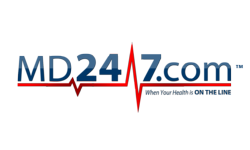 Tampa Florida (PRWEB) April 07, 2012
Seminole, Florida based telemedicine specialist MD247 launched a series of articles on April 02, 2012 discussing a variety of pulmonary conditions facing teens and young adults making the decision to smoke.
The first topic discussed in the pulmonary article series by MD247 is asthma, which is a chronic lung disease that inflames and narrows the airways. The disease causes recurring periods of wheezing, tightness in the chest and periods of coughing. Asthmatics can be any age, and typically suffer their worst coughing bouts either at night or in the early morning hours. Current records reviewed by MD247 indicate that more than 22 million people in the United States have been diagnosed with asthma, and 6 million asthmatics are under the age of 18.
Each MD247 pulmonary article discusses popular treatment available for the discussed pulmonary disease.
Asthma is a controllable disease which requires the intervention of a medical professional but, due to the realities of the economy and health insurance, many readers are choosing to look for over the counter treatments which equate to little more than a scam. The MD247 program is capable of providing ANY asthmatic with inexpensive methods by which to legally either obtain the necessary medications for proper treatment of asthma, or refill necessary prescriptions at a steeply discounted rate using the MD247 pharmacy services. There is no need NOT to treat asthma.
Seminole, Florida based MD247 (MD 247; MD/247; M.D. 247) provides discounted telemedicine healthcare services nationwide to families, and discounted wholesale telemedicine healthcare to businesses. MD247 has successfully provided 25,000 people the ability to talk to a doctor twenty-four hours a day, talk to a nurse twenty-four hours a day, receive discounted prescription drugs and receive discounted in-person healthcare services. MD247 also promotes use of social media to follow the company on Facebook at http://www.facebook.com/md247dotcom, or on Twitter at http://www.twitter.com/md247dotcom. In addition to discounted healthcare services, MD247 provides support to groups supporting the employment of veterans of the United States Armed Services. MD247 services, as well as informational blogs, can be found for review online at http://www.md247.com.