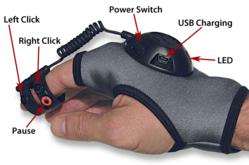 A Mouse, the Question is to Hold or not to Hold?
Orlando, FL (PRWEB) April 09, 2012
Bellco Ventures, a new company with a new product, introduces the Ion 3 D Wireless Air Mouse glove.
With many computer users moving to the big screen and looking for a more mobile and comfortable cursor controller the Ion 3 D Air Mouse Glove makes it possible to sit back in the big chair and enjoy surfing the net, playing online games or working. No desktop required.
Go big screen with just an RGB or HDM1 cable, anyone can turn the big flat screen TV into the computer monitor. Being stuck to the desktop is not the comfort zone, being able to sit back in the big chair with the Ion 3 D Air Mouse glove and a wireless keyboard is the comfort zone, says Bellco.
With new technologies, moving faster than the speed of light, Bellco is working on new technologies that will make the big screen computer experience more comfortable.
The new Ion 3 D wireless air mouse glove works on any computer and operate with Windows, Mac, Linux and Android it's simple to setup, just plug the USB mini module in the USB port on the computer and go mobile moving the cursor from anywhere in the room up to 35 feet away.
The New Ion 3 D wireless air mouse glove is available online for $79.95
For more information go to http://www.3dwirelessairmouse.com