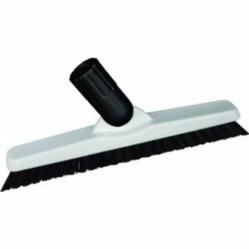 (PRWEB) April 07, 2012
Planet Amazing has announced a new Grout Cleaning Brush that is now available for purchase and comes highly rated by consumers at Amazon.com. "Grout is something you may not have heard of, but it is probably in your home," says Justin Douglas of Planet Amazing. "Grout gets dirty fast and it is something that can quickly make your house look dirty, but on the positive side, it is also easy to clean with our new grout cleaning brush (tile cleaning brush) and non-toxic grout cleaning solution."
Mr. Douglas explains that most builders, contractors and tile masons understand what grout is because they work with it all the time. "In laymen's terms, grout is the sealer between tile that holds it all together. It might look like the plaster that holds it together, but it is called grout. The grout in a bathroom can get very dirty and make the entire bathroom look terrible and unsanitary, when really all that is needed is a grout cleaning brush and some grout cleaning solution to make the entire bathroom look a lot better," he says.
"Our grout brush has a swivel on it that is important, because it allows the brush to clean the tiny crevaces in between the tile where a regular grout brush does not always get, you certainly can clean a lot quicker and better with the grout cleaning brush that we have with the swivel on it," Mr. Douglas says. "And when you use the grout cleaning solution, remember that it is environmentally friendly and will not harm your pets, children or anyone. It's one more way you can reduce your impact on the environment, especially since a lot of these chemicals eventually work their way into the outside environment and into the ground, plants and lawn outside of our house, into the rain drainage water and even into the water table and reservoirs around our house where drinking water is eventually pulled from. Toxic chemicals are certainly something we should be aware of when we are cleaning our homes, and Planet Amazing is committed to creating 100% non-toxic environmentally friendly products. We are happy to be approved by the EPA."
For more information, visit the Amazon.com page for the Planet Amazing (Artistic Solutions) Commercial Tile And Grout Cleaning Brush.
About Planet Amazing
PlanetAmazing.com is the premier manufacturer and distributor of a wide range of organic and inorganic "GRAS" solutions that anyone…no matter their experience…can use to eliminate real everyday problems.