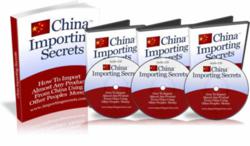 (PRWEB) April 07, 2012
The Chinese Vice Premier Li Keqiang has announced his government's renewed commitment to allowing and supporting exports from China, according to Bloomberg News. Research analysts at Shoestring Publishing recognize that this is also good news for home-based importers of Chinese products to be resold in the United States, Canada or Europe. Shoestring Publishing offers a course in how to import from China called "Chinese Import Secrets", which is taught by importer Perry Belcher who has earned over 100 million dollars in profits from his businesses.
"We hope to expand domestic demand and we also need to stabilize and expand exports," Li said, pointing out that international demand is weak at this time in 2012. Because the worldwide demand for Chinese products is weak, Li said that the Chinese government is going to look more favorably on those who are moving products from China to overseas markets, including individual entrepreneurs who export to the U.S., Canada and Europe.
"The Chinese import and export business is still great for entrepreneurs in the United States, if you take the course and learn the details," says Justin Douglas of Shoestring Publishing. "Certainly, this is not a business you want to be in if you have never studied about it. With our course from Perry Belcher, you have the entire Chinese import business blueprint explained to you, with additional bonuses that include Perry's 'Startup Boot Camp' course, accounting and finances, social media for business and more. This course will help anyone who wants to learn how to import products from China and resell them inside the United States, Canada or Europe."
For more information, visit the website for the Shoestring Publishing course on how to import from China, "China Import Success": http://www.chinaimportsuccess.com.
About Shoestring Publishing
Shoestring Publishing is the premier online publisher of "extra income opportunities" that anyone can use to earn additional income. Unlike 99% of the so-called "opportunities" that promise to make millions overnight, the Shoestring Publishing mission is to show legitimate methods to earn a little extra income in a short period of time. Shoestring Publishing brings the very best in business startup courses to the public. They don't promise to make their students millionaires, but they do promise to show REAL strategies for earning extra cash that don't involve any special skills or a massive learning curve. All students need is an internet connection, an open mind and a willingness to learn.