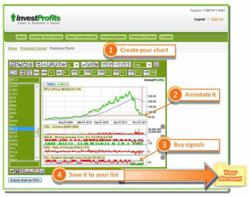 "One way to get better investment returns is to use stock charts when choosing which stocks to buy."
Virginia Beach, VA (PRWEB) April 10, 2012
InvestProfits.com stock charts are useful in using technical analysis indicators to find the best time to buy stocks. With buy and sell signals and video tutorials, interactive charts make it easier to find the best time to buy and sell a stock.
The stock market has been performing well this year. According to the S&P 500, the stock market has returned about 12% (including dividends) for the year through April 5th. According the CEO, Jim Vickery, "Investors are subjected to different kinds of returns but can invest better by using better investing methodologies."
"Typically, the stock market has been averaging 10-12% per year. But in the last decade, the average has been marginal," says Mr. Vickery. "One way to get better investment returns is to use stock charts when choosing which stocks to buy." Members can sign up free at http://www.investprofits.com
About InvestProfits.com
Founded in 2010, InvestProfits.com is becoming a vital source in the investment community for self investors. The company continues to grow by constantly adding new and exciting features to its' educational investing tutorials and Interactive Stock Charts with an amazing staff and development team. Visit the company's' website at http://www.investprofits.com for more information.