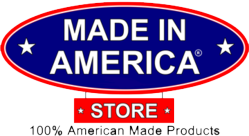 Elma, NY (PRWEB) April 08, 2012
The Made in America Store in Elma, NY, has a new online presence, one that is a perfect "fit" for the two year old retailer and the "Buy American" movement it launched across the country.
The store's new web domain, http://www.MadeInAmericaStore.com, is something store owner Mark Andol has sought to own from the very beginning, and, thanks to an agreement with the former domain owner, it is now his.
That former owner, Scott Shedler, from Suffern, NY, shares Mark's passion for "Made in America" products but says other business projects prevented him from moving-forward with the development of a retail store. Scott adds he is glad that shared vision has now been realized and supports the Made in America Store in its mission.
This latest positive development follows the recent launch of a new E-Commerce Store, which expands the number of products available to online shoppers, while lowering their shipping costs.
It is the only website in the United States that guarantees all of the products are 100% American-made.
Since opening in April of 2010, the "Made in America/Buy American" movement has swept the country…garnering national and international media coverage, the attention of policy-makers in Washington, D.C., and the support of thousands of customers across the United States.
The movement's importance is underscored by economists, who say 200 thousand jobs can been created in the U.S. if every American spends just $64 on American-made goods.
Mark Andol likes to point out that creating those jobs is vital to our country, because "China is a Long drive to Work".
The Made in America Store is located at 900 Maple Street in Elma, NY, and now online at http://www.MadeInAmericaStore.com. You can also connect with the Made in America Store through Facebook, Twitter, Google +, 4 Square, Pinterest, YouTube, and tumblr.