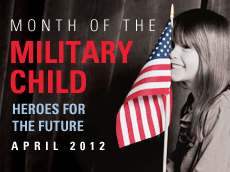 Operation Hug-A-Hero is here for our Little Heroes
(PRWEB) April 09, 2012
Of the more than 1.8 million military children, roughly sixty percent have had a parent deploy multiple times in their lifetime. For many of these military kids, the United States has been at war for their entire young lives. For some, the sacrifice lasts a lifetime if the parent is killed in the line of duty. The stress of this, along with frequent moves, learning new schools, and having to make new friends can impact them academically and psychologically. Frequent absences of the military parent and separation anxiety can lead to behavioral issues.
April is designated as the Month of the Military Child to underscore the important role these children play in the Armed Forces community. For the past 26 years, this month is set aside to do what Operation Hug-A-Hero does all year long – honor our littlest heroes! We pay tribute to the strength of character, resilience, patriotism, courage and leadership of these special children. It does not take a lot to put a smile on the face of a military child. While the deployed or fallen parent can never be replaced, a Hug-A-Hero doll can offer solace during their most trying times.
An excerpt from a recent Operation Hug-A-Hero application:
"We have pictures that the kids have posted all around the house and even our 16 month old goes to the door, opens it to look outside and says "Dada Dada… gone." My husband's worst fear is that the youngest two won't remember who he is." – Devon Medina, US Marine Corps Spouse
Despite the fact that some servicemen and woman are coming home, requests for Hug-A-Hero dolls are on the rise. A slow economy, rising jobless rate and general uncertainty has lead to a significant decrease in donations to OHAH over the last two years. These changing circumstances have impacted our ability to provide hundreds of Hug-A-Hero dolls at no cost to these brave children.
The Hug-A-Hero doll features the head-to-toe photograph of the child's active duty parent (usually dressed in uniform), with a pocket in the back to save pictures or letters from their loved one. This one-of-a-kind doll is incredibly durable and washable so it can survive many deployments.
These children deserve the admiration and steadfast support of all Americans. Please consider a tax-deductible donation to Operation Hug-A-Hero. Your $20 gift can alleviate the worry and suffering of a small child missing their deployed or fallen parent. We owe these little brave souls our gratitude by lightening their burdens.
Individuals who wish to donate directly can do so via the Operation Hug-A-Hero website: http://www.operationhugahero.org. Corporations, Civic Groups, and Community Groups are encouraged to contact OHAH Director of Communications, Carla Olivo at 540-847-1467 or Carla(dot)Contento-Olivo(at)operationhugahero(dot)org or Executive Director Lisa Berg at lisa(at)operationhugahero(dot)org.
# # #