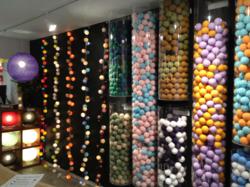 Innovative retailers like Cable and Cotton win through hard times
Brighton, East Sussex (PRWEB UK) 11 April 2012
Brighton based Cable and Cotton was launched in the depths of the recession in 2009 and has seen 100% growth in sales in 2011-12, an annual trend it has repeated since launch.
Founder Bryn Jones believes that people are not stopping spending their money on the high street, they are just being more careful about what they spend it on.
He says, 'I started Cable and Cotton as a simple way to bring customizable and luxurious style into peoples homes for a low cost. I worked hard to negotiate good prices from my suppliers and as I did not have high overheads when I started out, I was able achieve a very good price point for my customers.'
Cable and Cotton chose one of the worst economic climates on the High Street to launch it's first store in the famous Brighton Lanes - in April 2011 a dedicated store selling customizable string lights opened in Meetinghouse Lane, Brighton.
Bryn comments, 'I think most people thought I was crazy to open a shop selling just one string lighting product when lots of established shops were being forced to close their doors and I heard recently that there we bets on how long such a shop would last!'
In spite of this Cable and Cotton has flourished - the dedicated store has proved to be a great success and big retailers such as Heals, John Lewis and Graham and Green have all become customers.
Bryn puts the secret of the businesses success down to innovation, determination and keeping it simple, saying 'If there is one thing Britain is good at, it's innovation and the public here are avid supporters of any ideas which are new, clever and useful'.
He continues, 'I was determined that I would bring my product to market here and that it would be a success and the level of support I have received from customers who recognize my efforts has been quite overwhelming.'
Cable and Cotton is about to launch a franchise operation in the UK and new product ranges, focused on colour and customization.
For info contact Cable and Cotton Ltd, bryn(at)cableandcotton(dot)co(dot)uk or 07866-423113.