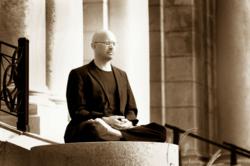 I love Kansas City and can't wait to get back there to see all of the exciting things that have changed since I last visited.
Kansas City, MO (PRWEB) April 10, 2012
As far as spiritual experiences go, Kansas City has a lot to offer. Being a hub for different religious sects makes it an interesting place for any spiritual explorer. Many important people have come to our great City to help enlighten others to their own higher good and Timothy Freke is no exception.
But how exactly does a best-selling author, spiritual pioneer and stand-up philosopher like Tim get to Kansas City? With the help of some very enthusiastic and motivated people of course! Enter Humanity's Team, WildJoy! Productions, and LileStyle Productions.
Wild Joy! Productions cut its teeth on bringing the international yoga chant stars Deva Premal & Miten with Manose to Kansas City for their first concert appearance ever in the Midwest and now is dedicated to bringing more sacred music and enlightening events to the area. LileStyle Productions is a video production and social media management company dedicated to helping with the same goals. Humanity's Team, founded by New York Times Best-Selling Author Neale Donald Walsch, is dedicated to awakening the world to our profound connection to each other and fostering a community with those principles. Together these groups are working towards creating more and more enlightening events for the residents of Kansas City.
"The amazing thing in talking with Tim for the first time was that it was like I was talking with another part of myself," says WildJoy! Productions owner, Paul Goldman. "His best-selling book, The Jesus Mysteries, along with his other books, really took me on a journey to discover my own deep connection to everyone and all of life and I know that others can feel this same connection through the Mystery Experience."
This wouldn't be the first time Tim has graced Kansas City with his heart-opening insights. In a brief interview he said, "I love Kansas City and can't wait to get back there to see all of the exciting things that have changed since I last visited."
Steve Farrell, the Worldwide Coordinating Director for Humanity's Team, is excited to see these events unfolding, saying, "Humanity's Team Kansas City is a great example of a grass-roots movement in action. With members in over 150 countries all over the world, this Global movement depends on small groups like HT Kansas City to help awaken the world to our connection to each other in order to foster more cooperation between us and bring about world peace."
So when will Tim be here? "Everything is really falling into place for a phenomenal four-day event," says Angie Lile, Owner of LileStyle Productions and group leader for Humanity's Team Kansas City. "We're working on spreading the news far and wide using social media and video. Paul has done a terrific job of making all of the arrangements and lining out the program."
Tim's first appearance,"Two Transformational Events in One Evening", will be held at Unity Temple on The Plaza , Thursday July 5, 2012. The evening is to begin with an "Encounter with Tim Freke" from 7pm to 8:30pm which includes both a discussion on his new book, The Mystery Experience, and a book signing. The evening tops off from 9pm to 10:30pm with HuDost in concert featuring Moksha Sommer from Montreal and Jemal Wade Hines from New York. The cost for all of this: Encounter with Tim Freke, a copy of The Mystery Experience and HuDost in concert is just $40.
Next, there will be a 3-day relaxed-intensive, The Mystery Experience Retreat at Savior Pastoral Center, 12601 Parallel Parkway, Kansas City, Kansas. This retreat will begin on Friday, July 6, 2012 at 5pm and conclude on Sunday, July 8, 2012 by 3:30pm. The cost for the retreat is $375 and includes lodging and all meals (Friday Dinner, Saturday Breakfast, Lunch and Dinner, and Sunday Breakfast and Lunch). Early-bird discounted tickets are available only until April 15, 2012 for $325.
"When you taste the Mystery Experience you know something which changes everything. It's like dissolving in an ocean of love. There is such a feeling of relief and well-being. Like coming home. The whole purpose of spirituality is to help us let go into the Mystery Experience. And this is much easier than is commonly believed, because it is simply recognizing our own essential nature, which is always present."
Find out more about these events by visiting WildJoy! Productions